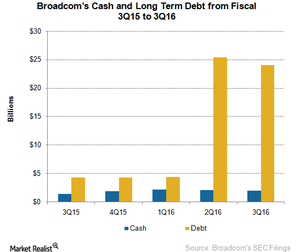 Brocade Acquisition to Further Increase Broadcom's Leverage
By Puja Tayal

Updated
Broadcom acquires Brocade for higher cash flows
Earlier in this series, we saw that Broadcom (AVGO) is looking to reduce its exposure in the slowing wireless market and expand in the wired and storage markets. The company has expanded its portfolio mostly through acquisitions.
The company's acquisition of Brocade Communications Systems (BRCD) is inclined more toward increasing cash flows than expanding its portfolio. Broadcom is only interested in Brocade's fiber channel storage area network switching business, which has high cash flows. It's looking to divest the rest of Brocade's business.
Let's take a look at Broadcom's current balance sheet and how the Brocade acquisition could further increase its leverage.
Article continues below advertisement
Cash flow
The Broadcom merger increased AVGO's annual FCF (free cash flow) to $2 billion. The company will use most of this FCF to repay debt. Broadcom's fiscal 4Q16 FCF is expected to rise sequentially on a rise in its net income.
By the time Brocade's acquisition is completed in fiscal 2H17, Broadcom's long-term debt should have fallen $2 billion–$22 billion. Brocade will likely increase Broadcom's annual FCF by $500 million and its annual non-GAAP (generally accepted accounting principles) EBITDA (earnings before interest, tax, depreciation, and amortization) by $900 million.
Cash and debt position
In fiscal 3Q16, Broadcom repaid $1.3 billion of its debt, reducing its long-term debt to $24 billion compared to its cash reserves of $2.0 billion. 
Analysts have speculated that Broadcom will soon announce another acquisition. The company previously said that it wouldn't consider another acquisition until it had reduced its net debt-to-EBITDA multiple to 2x from 4.3x. However, it announced its acquisition of Brocade for $5.9 billion before reaching its net debt-to-EBITDA target.
Impact of Brocade acquisition on Broadcom's leverage
According to a Reuters report, unnamed sources stated that the company had taken a $6.5 billion unsecured bridge loan to fund its cash acquisition. If this rumor is true, Broadcom's debt will rise to $30.5 billion until it arranges for stable financing for the acquisition. This will be reflected in its fiscal 1Q17 earnings.
If Broadcom sells Brocade's IP (intellectual property) Networking assets for $1.5 billion, its debt burden may reduce slightly, and its annual FCF could rise more than $500 million in a few years, enabling it to repay its debt faster.
Brocade's acquisition seems feasible, as other acquisition targets Xilinx (XLNX) and NXP Semiconductors (NXPI) are too expensive for Broadcom to bear due to its highly leveraged balance sheet.
Next, let's look at AVGO's stock performance in fiscal 4Q16.