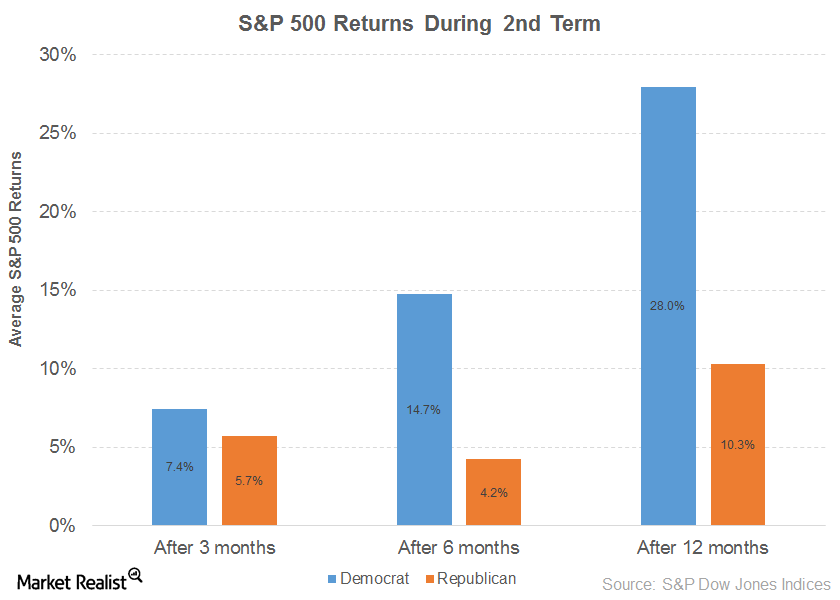 Which S&P 500 Sectors Do the Best for an Incumbent Democrat?
S&P 500 sectors and incumbent Democrats
If Hillary Clinton wins the presidential election, we'll be in uncharted territory. For the past 30 years, no Democrat has won with a two-term Democrat leaving the office. Let's analyze the results as though Clinton wins as an incumbent Democrat.
The S&P 500 returns for a second-term president have been somewhat better than a first-term president, which is one reason for the incumbency factor. For the last 30 years, the S&P 500 has generated an average return of 6.6% three months after the reelection of a president.
The index has generated an average return of 9.5% six months after a reelection. The index has had an average return of 19.1% one year after a reelection.
Incumbent Democrats have outshined incumbent Republicans in terms of S&P 500 returns three, six, and 12 months after a reelection.
When the Democrats were in power, financials and IT (information technology) recorded the highest returns three months after a reelection. They were followed by healthcare, energy, and consumer staples.
IT, healthcare (XLV) (XBI), financials (XLF) (KRE), and consumer staples recorded the highest returns six months after a Democrat was reelected. Performance gradually improved across all the sectors.
Financials recorded the highest returns one year after the reelection of a Democrat, breaching the 35.0% mark. IT and healthcare came very close to financials at the 34.0%–35.0% mark. Consumer discretionary was about 31.0%, and utilities recorded the lowest return in all instances.
In the next part, let's look at the performance of the S&P 500 sectors under Republican presidents.
Article continues below advertisement