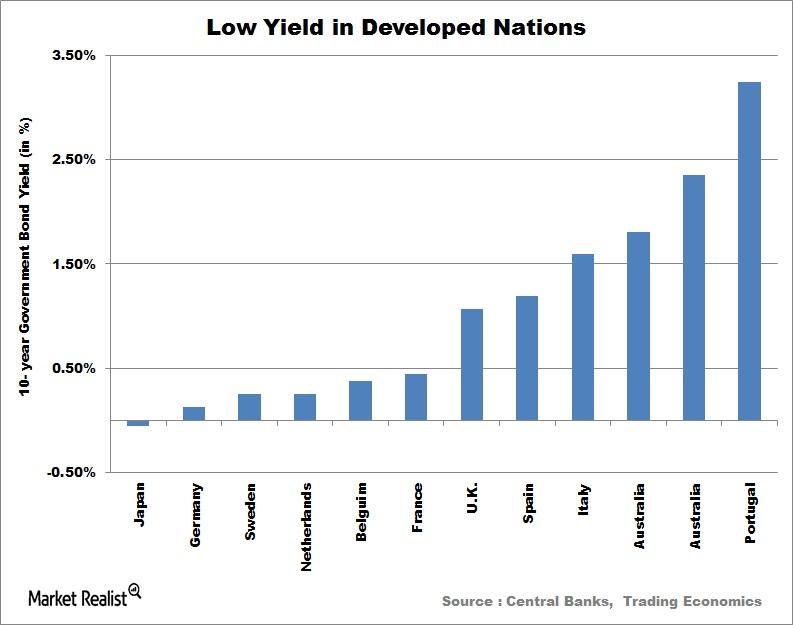 Why Attractive Yields Are Supporting the Emerging Market Rally
By VanEck

Nov. 9 2016, Updated 11:38 a.m. ET
Rate Volatility and Curve Steepening
Interest rate volatility was a primary concern in September as the market grappled with the possibility that the major developed market central banks might be on the verge of policy shifts. The European Central Bank and the Bank of Japan versions of quantitative easing are both under review and the anticipated impact of reversals or tapers led to steeper curves. In the U.S., the Fed remained on hold, as expected, but took a more hawkish tone with regard to the likelihood of a single hike before year end. Even so, the scaled back rate expectations of Fed governors in the "dot plot" showed only two potential hikes in 2017.
Article continues below advertisement
Market Realist – Negative rates intensified the yield hunt
Negative bond yields in Japan and the Eurozone, coupled with very low federal funds rates in the United States, are part of why emerging market bonds and currencies have performed so well in 2016. Following the Brexit vote, investors seeking safety flocked to government bonds (EMLC) (HYEM), which led to a sharp rise in negative-yielding global debt. According to Fitch Ratings, around $10.7 trillion worth of global bonds (BNDX)(VWOB) is trading at negative yields.
Market Realist – The graph above shows the ten-year government bond yields for select developed countries. Most countries in the Eurozone and Japan are currently yielding very low or negative yields. Given this high-duration, low-yield fixed-income world, it might be a smart move to augment your bond portfolios with emerging market bonds.
Emerging market corporate bonds or investment-grade bonds (IGEM) could provide higher spreads than Treasuries (TLT) (IEF) and lower risk than junk bonds (JNK) (HYG). Moreover, emerging market corporate debt exposes investors to developing economies, which are increasing their contribution to global growth year after year.
Market Realist – Japan, where policy makers have been trying to coax yields up since mid-September, remains sub-zero, accounting for almost exactly half the world's total yield. About 44% comes from Western Europe. Germany, France, the Netherlands, Spain, Belgium, and Italy are the continent's top five yielders.
The International Monetary Fund recently cut its global growth forecast to just 3.1% for calendar 2016 and to 3.4% for 2017 due to the subdued outlook for advanced economies. With the US GDP outlook waning to 1.6%, Europe grappling with the fallout of the Brexit vote, and Japan still stuck in the same old rut, investors looking for growth could end up in emerging markets.