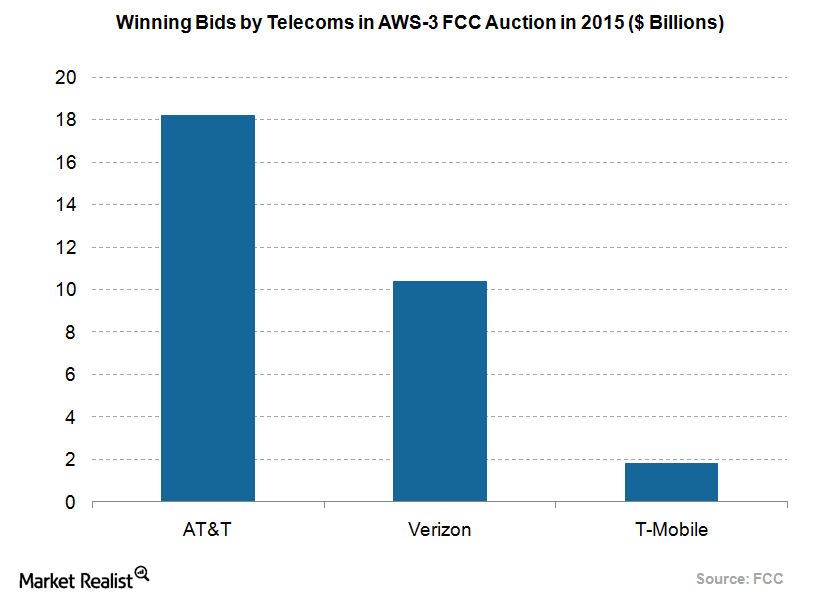 How AT&T Is Tackling 5G, the Next Big Thing in Wireless
By Ambrish Shah

Aug. 18 2020, Updated 6:40 a.m. ET
AT&T on 5G
In the telecom world, 5G (fifth-generation) is the new buzzword, as it could provide 10x–100x faster wireless speeds than 4G. AT&T's (T) progress in the 5G space continues.
The company's proposed acquisition of Time Warner (TWX) will help it to lower its capital expenditure (or capex) investments, with minimal capex requirements at Time Warner balancing AT&T's higher capex needs. As a result, AT&T will have more resources and opportunities to invest in 5G technology.
Article continues below advertisement
AT&T is enthusiastic about the future of 5G technology, which should improve data speeds. It should also improve capacity and latency relative to the current 4G (fourth-generation) LTE (long-term evolution) path by aggregating the spectrum into larger blocks and taking advantage of new antenna technology. AT&T continues to trial new wireless technologies, including 5G. AT&T is working on its 5G initiative with Nokia (NOK), Ericsson (ERIC), Intel (INTC), and Samsung.
According to a FierceWireless report on October 24,2016, "AT&T completed its first public demo of 5G technology with Ericsson last week at the Texas Wireless Summit in Austin, Texas, where attendees got the chance to see multi-gigabit per second bandwidth reaching speeds near 14 Gbps, similar to what AT&T has seen in its 5G lab trials."
AT&T is an aggressive player in the 5G market
AT&T has been an aggressive player in the 5G market. Even in the past, it has tried to outbid its rivals in order to gain spectrum advantage. AT&T was the highest bidder during the AWS-3 spectrum auctions in early 2015, purchasing spectrum worth $18.2 billion. The AWS-3 spectrum auction was the major auction conducted by the Federal Communications Commission after 2008.
As shown in the graph above, Verizon (VZ) and T-Mobile (TMUS) also participated in that auction, making winning bids of $10.4 billion and $1.8 billion, respectively.
AT&T's 4G LTE footprint covers more than 380 million people in North America. This large coverage should help AT&T to become an important player in the 5G market.