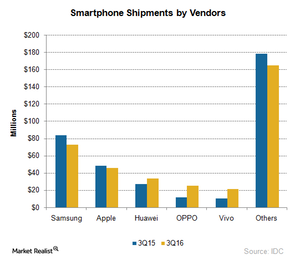 How Did Apple's Dual Sourcing of the iPhone 7 Modem Impact Qualcomm?
By Puja Tayal

Nov. 9 2016, Updated 11:04 a.m. ET
Qualcomm's modem business
Qualcomm's (QCOM) chipset business has risen on strong demand for modems from Chinese OEMs (original equipment manufacturers). More and more, Chinese handset makers are adopting thin modems in all tiers. The strong demand from China more than offset the fall in modem sales due to the loss of orders from Apple (AAPL).
Until 2015, Qualcomm was the sole modem supplier for Apple's iPhones. However, Apple decided to dual source modems for its iPhone 7, and so it gave a portion of its modem orders to Intel (INTC).
Article continues below advertisement
Apple and Qualcomm
Apple used Intel's XMM 7360 LTE (long-term evolution) modem in iPhone 7 sold by AT&T and T-Mobile in the United States and Qualcomm's MDM 9645M LTE modem in the iPhone 7 sold by Verizon Communications (VZ) and Sprint (S) in the United States, and devices sold in China and Japan.
A report by Cellular Insights stated that there was a performance gap between the Intel and Qualcomm modems. The report stated that iPhone 7 devices featuring Qualcomm modems had 30% better performance, 70% better signal strength, and higher download speed than iPhone 7 devices featuring Intel modems.
Qualcomm modems also support Ultra High Definition Voice, whereas Intel modems do not. The performance difference may encourage Apple to switch back to Qualcomm. However, this may not have a major impact on Qualcomm's earnings as it reduced its dependence on Apple by expanding its customer base in China.
In its fiscal 4Q16 earnings call, Qualcomm stated that some of its OEMs don't have the same value the premium performance as they did in the past. But this factor did not deter the company from making premium modems.
Qualcomm continues to develop advanced modems
In collaboration with Telstra, Ericsson, and NETGEAR, Qualcomm launched the world's first gigabit-class LTE mobile modem and gigabit-ready network that supports LAA (license-assisted access). Qualcomm also announced that it plans to launch the world's first 5G modem Snapdragon X50 in 1H18.
Now let's see how the shutdown of Samsung's Galaxy Note 7 production could impact Qualcomm's SoC (system-on-chip) business.