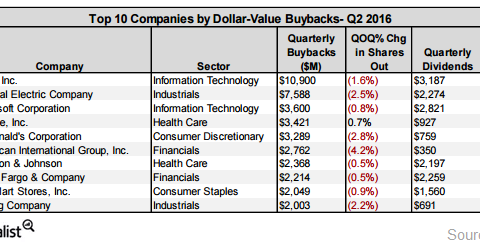 Why Apple and Its Peers Continue to Spend So Much on Buybacks
By Anne Shields

Updated
Apple topped the list of stock buyback spenders
Donald Trump's proposed reduction in the tax rate is likely not only to ease cash repatriation in the country, but also to do so in a cost-efficient manner, leading to a potential surge in stock buybacks. In 2Q16, Apple (AAPL), with its significant cash reserves, continued to spend the most, followed by Microsoft (MSFT). Oracle (ORCL) was another technology company that made the top ten list.
Apple repurchased $10.9 billion worth of shares, representing a 9% rise YoY (year-over-year). Apple's buybacks led to a 5.5% YoY fall in its outstanding shares.
Article continues below advertisement
Read Will Apple Force Trump to Reduce the Tax Rate to learn more about the role of Apple in Trump's consideration of a tax reduction. In response to allegations hurled at IBM (IBM) by Trump, IBM's CEO, Virginia Rometty, said in an open letter to the president-elect, "Many billions of dollars of American companies' earnings do not come home because of an outdated and punitive tax system."
The letter also said that the change resulting from a reduced tax rate would "free up capital that companies of all sizes can reinvest in their U.S. operations, training and education programs for their employees, and research and development programs."
Factors that promote share buybacks in the technology sector
Share buybacks hold special importance in the context of technology stocks. Looking at the amount that technology companies spend on share buybacks, it's safe to deduce that at least part of the sector's earnings growth comes from share buybacks.
Share buybacks are also preferred by technology companies in particular, as they reduce the amount of shares outstanding and increase EPS (earnings per share). This preference explains why the IT sector came in second place in YoY share reductions in 2015.