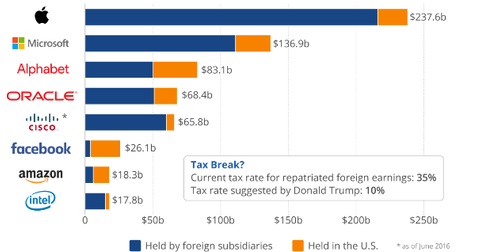 Will Apple Force Trump to Reduce the Tax Rate?
By Anne Shields

Updated
Trump's tax reduction move could be the only way to bring billions back to the United States
Earlier, we discussed the comments made by IBM's (IBM) CEO, Virginia Rometty, regarding the company's layoffs in the United States and the reduction in the tax rate, after Trump publicly called IBM out for moving jobs to other countries.
In August 2016, Apple's (AAPL) CEO, Tim Cook, in a talk with The Washington Post about the company's cash held overseas, said, "We're not going to bring back until there's a fair rate."
Article continues below advertisement
Rometty's letter voiced a similar opinion. It stated, "Many billions of dollars of American companies' earnings do not come home because of an outdated and punitive tax system." The letter said that the change as a result of the reduced tax rate would "free up capital that companies of all sizes can reinvest in their U.S. operations, training and education programs for their employees, and research and development programs."
We've already highlighted the importance of R&D (research and development) in the success of tech companies. IBM, which has an annual R&D budget of $5.4 billion, has spent more than half of its R&D funds in the United States. IBM's investments in R&D led to its having the most AI (artificial intelligence) patents among its peers in 2015.
IBM leveraged its position to push Watson
Leveraging its data analytics and security business and not passing up a chance to push Watson, IBM's cognitive computing platform, Rometty suggested that by applying data analytics, the federal government could enhance health insurance programs. Being in a dominant position, the US government could aim to lower the cost of patient care and prescription drugs.