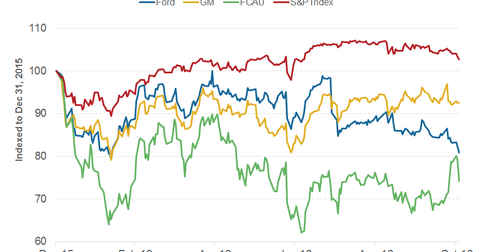 Analyzing the Auto Industry before the US Presidential Election
By Jitendra Parashar

Updated
US auto industry
The US presidential election will take place on November 8, 2016. The outcome of the election will likely have a substantial impact on the US economy and the auto industry. The outcome could impact mainstream US automakers' business. Before we explore how the election could impact the auto industry, let's take a look at how key automakers are performing on Wall Street ahead of the election.
Article continues below advertisement
Auto companies' YTD changes
Since the beginning of 2016, auto companies underperformed the broader market (SPY). As of November 3, 2016, General Motors (GM), the largest US automaker, witnessed value erosion of 8.7% YTD (year-to-date)—compared to 2.2% gains seen in the S&P 500 benchmark for the same period.
Ford (F), the second-largest automaker, lost about 19.4%, while Fiat-Chrysler (FCAU) is trading with 25.7% YTD losses. General Motors reported higher profitability in first three quarters of the year. It could be the main reason behind its better performance on Wall Street compared to other auto companies.
Tesla Motors (TSLA), the popular US electric automaker, disappointed investors with an ~22% negative return in 2016. On October 26, 2016, the company reported impressive 3Q16 results. Read Did Tesla Leave Any Room for Critics after Solid 3Q16 Results? to learn more.
Series overview
In this series, we'll take a look at how the outcome of the US presidential election could impact automakers' business. We'll also look at some key focus areas for auto investors. We'll discuss both presidential candidates' views on these important issues.
Let's start by looking at why Ford might be in trouble if Donald Trump is elected as the next US president.