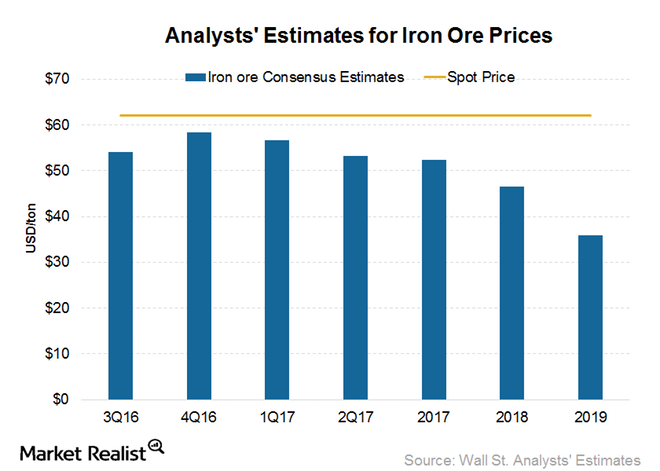 Are Analysts Turning Positive on Iron Ore in the Short Term?
Analysts upgrading on price strength
Many analysts have upgraded their iron ore price forecasts due to the recent strength in prices. The Commonwealth Bank upgraded its 2017 outlook for iron ore prices from $53 per ton to $58 per ton. According to The Australian, the bank added, "we upgrade prices over the next year on views that Chinese demand will remain more resilient than we anticipated."
Article continues below advertisement
Clarksons Platou and RBC
Clarksons Platou, on the other hand, is not convinced of a rally in iron ore prices. Clarksons Platou analyst Jeremy Sussmann stated that "we understand the moves in metallurgical coal and copper given inventory levels, but we believe iron ore is simply being pulled up with the whole commodity complex." RBC (Royal Bank of Canada) also thinks that the recent large movements in bulk commodities, such as iron ore, are dictated by speculation rather than fundamentals.
Barclays and DB
Barclays is skeptical regarding the longevity of the iron ore rally, given the property sector cool down in China. In a report, Barclays analysts wrote, "as we head into 2017, any signs of a slowdown in China's real estate sector could send copper and, particularly, iron ore back down to lower levels, perhaps rapidly."
Deutsche Bank (DB) remains constructive on iron ore prices through 2017. Its analysts have stated that "there is no doubt that current spot prices are unsustainable and have been driven by speculative trading on the Chinese exchanges. We expect a combination of higher trading fees and higher margins to take the froth off current prices. However the combination of a strong credit impulse boosting the property sector, along with a sharp pickup in infrastructure activity has meant that Chinese steel demand is likely to end 2016 up marginally positive as opposed to down single digit which was our expectation a year ago."
While brokers have upgraded their short-to-medium-term forecasts, they are still not positive on the long-term fundamentals of the commodity (COMT). The fall in the expected price is mainly due to supply additions that are expected to hit the market in 2017. Going forward, these additions could pressure the cash flow of miners, such as BHP Billiton.