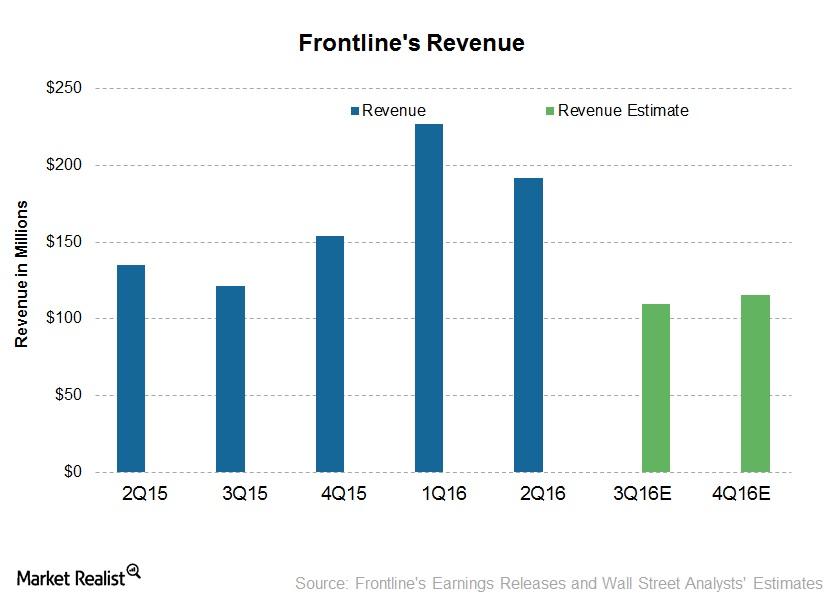 Analysts Expect a Plunge in Frontline's 3Q16 Revenues
Revenue estimates
Wall Street analysts estimate net revenue of $109.8 million for Frontline (FRO) in 3Q16. This compares to $192 million in 2Q16 and $121.5 million in 3Q15. This is a 10% fall YoY (year-over-year) and a 43% fall quarter-over-quarter.
Article continues below advertisement
Industry tanker rates
Crude tanker rates fell steeply in 3Q16. The main reasons for the rate drop were accelerated fleet growth and lower oil production in the Atlantic Basin. This is one of the main reasons that analysts estimate a steep drop in FRO's third quarter revenues.
Long-term estimates
Because crude tanker rates are generally strong in the fourth quarter, Wall Street analysts expect Frontline (FRO) to report a rise in revenue to $115.8 million in 4Q16. This is still 25% lower year-over-year.
Despite weak revenues year-over-year in the third and fourth quarters, analysts estimate that FRO's 2016 net revenue could be $590 million. The company's 2016 estimate is higher than its revenue of $459 million in 2015, which was an exceptionally strong year for crude tankers.
In 2015, industry crude tanker rates hit some of their highest numbers since 2008. Since the start of 2016, the company has taken delivery of four vessels. These vessels have added to the company's revenue earnings days.
Article continues below advertisement
Revenue sources
Frontline (FRO) earns its revenue through operation of its 20 VLCCs (very large crude carriers), 14 Suezmax vessels, three Aframax vessels, 11 LR2 tankers, and nine MR vessels. It operates its vessels in the spot market as well as in the time charter market
Peers' revenues
Most of the crude (DBO) tanker companies have already released their third quarter earnings: