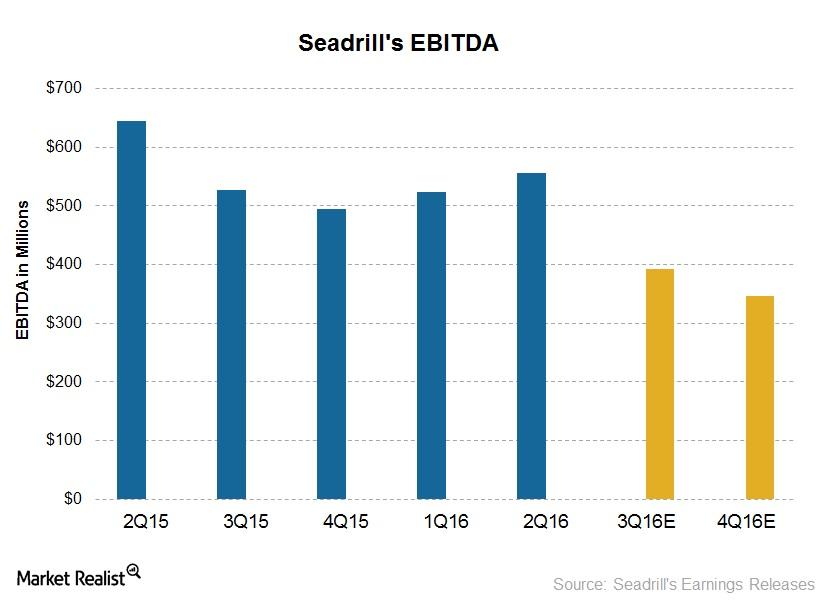 Analyst Estimates for Seadrill's 3Q16 Earnings
Earnings estimates
As we saw in the previous part, Wall Street analysts estimate Seadrill's 3Q16 revenue will be 17% lower than the previous quarter's revenue. However, analysts expect a 30% drop in its 3Q16 EBITDA (earnings before interest, tax, depreciation, and amortization). Analysts estimate Seadrill's EBITDA will be $392 million in 3Q16, compared with $557 million in 2Q16.
For the fourth quarter, the company's EBITDA estimate stands at $346 million, which is a steep drop from its current EBITDA. Analysts' estimates for SDRL's EBITDA in 2016 and 2017 are ~$1.8 billion and $1.1 billion, respectively. These figures are much lower than the company's EBITDA of ~$2.4 billion in 2015. However, drops in EBITDA have been common among offshore drillers (IYE) during the current downturn.
Based on its 2Q16 EBITDA and revenue, Seadrill's EBITDA margin is 64%. Based on its estimated revenue and estimated EBITDA, we calculate that Seadrill's 2Q16 EBITDA margin will be 54%.
Article continues below advertisement
Actual EBITDA versus estimates
Seadrill has beaten EBITDA estimates five times in the past six quarters. On the other hand, it hasn't met revenue estimates in five out of the past six quarters.
Noble (NE) has beaten EBITDA estimates in two out of the last five quarters. Ensco (ESV) has beaten EBITDA estimates in three of the last five quarters, and Diamond Offshore Drilling (DO) has beaten estimates in all of the last five quarters.
Earnings per share estimate
As analysts estimate a drop in revenue and EBITDA in the second quarter, EPS (earnings per share) are forecast to be $0.20—a 61% fall from 2Q16's EPS of $0.52. The 2016 EPS are expected to fall 25% to $1.20 from 2015's EPS of $1.59. In 2017, analysts estimate EPS of $0.10 for Seadrill.