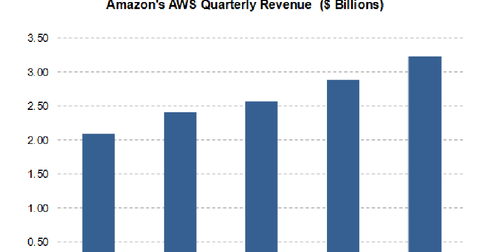 Is Amazon Putting AWS at Risk by Taking on Netflix?
By Ruchi Gupta

Updated
Amazon Video going global
Amazon (AMZN) plans to expand its streaming video service to more global markets in a manner that pits it directly against Netflix (NFLX). However, Netflix is a major Amazon Web Services (or AWS) customer. Will Amazon strain its relationship with Netflix now that it is taking the competition for the streaming video market abroad?
Article continues below advertisement
Expansion to 200 countries
In early 2016, Netflix completed its expansion to more than 200 countries, an ambitious project that cost time and treasure. The company hoped that by leading in global expansion, it would grow its streaming service quickly and recoup the massive investment it has made. However, Amazon's decision to take Amazon Video overseas threatens Netflix's ambitions.
As part of the global expansion of Amazon Video, Amazon announced that The Grand Tour, a reality show exclusively available on its network, will premiere in 200 countries in December 2016.
Ahead of announcing global expansion of Amazon Video, the company introduced a monthly plan that is competitive to what Netflix and other providers offer. On top of that, Amazon introduced a monthly subscription of $12 for membership in its loyalty program, Prime. Previously, Amazon only offered Prime as an annual subscription costing $100, with Amazon Video being part of the package.
Alienating Netflix
Can more direct competition with Netflix put Amazon's most promising business, AWS, at risk? If Netflix feels that Amazon is turning into an existential threat, perhaps it could decide to walk away from the AWS environment. It has a variety of options.
Amazon competes in the cloud computing business with Microsoft (MSFT), Oracle (ORCL), International Business Machines (IBM), and Alphabet's (GOOGL) Google. These competitors could benefit from its fallout with Netflix.
However, that would be a major setback for Amazon, considering that AWS is shaping up to be the company's most important business. AWS is growing rapidly and is already profitable. Amazon says that AWS is on track to generate $12.4 billion in revenue in 2016.