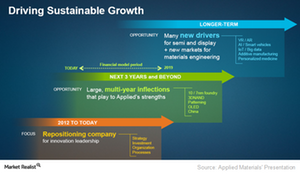 What AMAT's Mid-Term Guidance Says about Semiconductor Industry
By Puja Tayal

Updated
AMAT's guidance: a reflection of the semiconductor industry's future
The first quarterly earnings of the seasonally strong second half are out, and many semiconductor companies like Intel (INTC), Micron Technology (MU), and TSMC (TSM) reported seasonal growth. Despite the seasonal demand, overall semiconductor industry growth has slowed due to a slowdown in the PC and smartphone markets.
However, the world's largest SME (semiconductor manufacturing equipment) supplier, Applied Materials (AMAT), whose earnings are indicative of the semiconductor industry's future, had a different story to tell. At the 2016 analyst day, the company discussed how the last three years have been and what will drive growth in the next three years.
Article continues below advertisement
AMAT from 2012 to 2016
Between 2012 and 2016, AMAT revised its business strategy and restructured its business model to identify the inflection point that would drive future growth. Once the inflection point was found, it identified the key customers for future technology and understood the issues they faced. It then devised solutions and ensured they were successful, thereby generating value for the customer.
Gartner expects WFE (wafer fab equipment) spending to fall 0.7% YoY (year-over-year) to $30.8 billion in 2016. Despite this, AMAT expects to increase its WFE revenue by increasing its market share.
AMAT noted that the semiconductor industry's fabrication facilities (or fabs) have transitioned from lithography to materials over the past three years. This has expanded AMAT's total addressable opportunity in WFE spending from 53% in 2012 to 63% in 2016.
Between 2012 and 2016, the company expects its share in the WFE market to increase by four percentage points and its share in the display market to nearly double.
AMAT from 2017 to 2019
Now, AMAT has identified inflection points of 3D NAND in memory, OLED (organic light emitting diodes) technology in display, low process nodes in the foundry, and China (FXI) in capacity expansion. These inflection points could drive AMAT's earnings by a compounded growth rate of about 17% between 2017 and 2019.
AMAT aims to increase its revenue from $10.8 billion in fiscal 2016 to $13.5 billion in fiscal 2019, largely driven by strong demand for semiconductor systems. It also aims to improve its operating margin from 21.8% to 25.1% during the same time period. The growth numbers are supported by the company's order book, which is expected to reach a record high of ~$17.5 billion in fiscal 2016, $12.5 billion in new orders, and ~$5 billion in order backlog.
In the long term, AMAT expects growth to be driven by the emergence of augmented/virtual reality and automated cars. In this series, we'll look at the current scenario impacting AMAT's earnings.