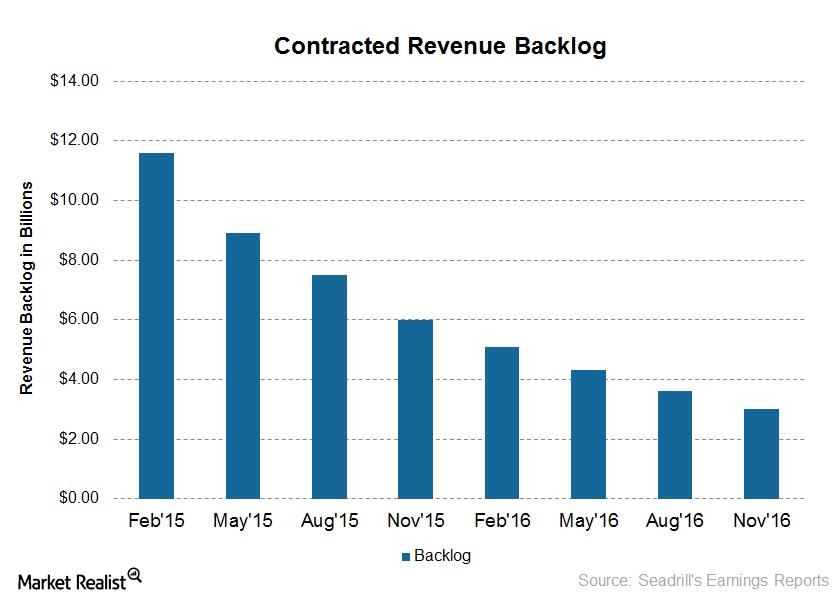 All You Need to Know about SDRL's Backlog and Contract Updates
By Sue Goodridge

Nov. 25 2016, Updated 10:04 a.m. ET
Backlog
On November 20, 2016, Seadrill (SDRL) had a backlog of $3 billion compared to $3.6 billion in the previous quarter. A company's backlog helps gauge where its future revenue might be.
Article continues below advertisement
Backlog details
Seadrill's backlog for the next quarter of 2016 is ~$650 million, which is 87% of its 3Q16 revenue. If the company isn't able to secure new contracts, its revenue for the next quarter could plunge to 87% of its 3Q16 revenue.
Going forward, the backlog for 2017 is ~$1.8 billion, or 50% of its revenue over the last four quarters. Of Seadrill's total backlog of $3 billion, its floater segment's backlog is $2.2 billion, and its jack-up segment's backlog is $0.8 billion. The average contract duration is 16 months for floaters and 15 months for jack-ups.
Contract updates
Let's take a look at the contract developments that took place in 3Q16:
Jack-ups AOD I and AOD II secured three-year contract extensions, which added ~$225 million to the backlog.
West Vigilant secured a three-month contract with Repsol in Malaysia, increasing the backlog by $10 million.
West Castor secured a new one-year contract with Eni in Mexico. The contract will commence in December 2016, and it's added ~$40 million to the backlog.
The jack-up AOD III received an 83-day contract extension from Saudi Aramco expiring in December 2016, resulting in a $9 million rise in the contract backlog.
West Ariel was moved to non-operating flotel mode, and its day rate was reduced to $120,000 per day from July 2016 through the remainder of its contract term, ending in February 2018. This reduction resulted in a $20 million backlog reduction.
The West Freedom backlog was reduced by $16 million resulting from rate reduction.
West Pegasus received a termination notice from Pemex effective August 2016, which resulted in a backlog reduction of $266 million.
West Epsilon received a notice of cancellation from Statoil effective mid-October 2016. According to the contract's terms, Statoil owes $11 million to Seadrill.
The following are the developments that have taken place from the start of 4Q16 to date:
Article continues below advertisement
West Phoenix was awarded a 90-day contract with Total in the United Kingdom. The backlog for the contract is estimated to be $17 million.
West Saturn has a one-well contract at $225,000 per day with ExxonMobil. This has increased Seadrill's backlog by $9 million.
Seadrill has agreed to reduce the total remaining contract value on West Jupiter by $144 million.