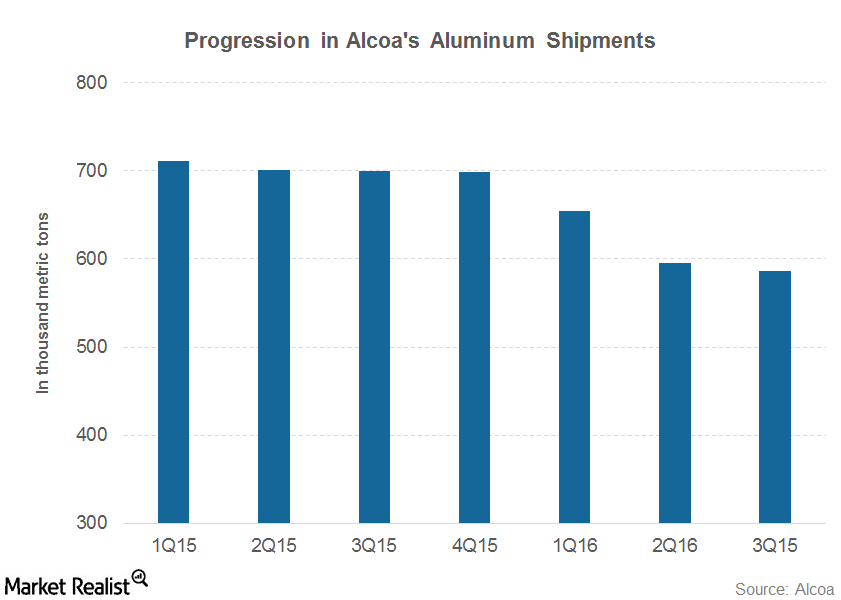 Alcoa's Aluminum Production: What Investors Can Expect
Alcoa's aluminum production
Alcoa has an iconic past. It was the world's second-largest aluminum producer in 2007, but last year, the company was ranked fourth. The fall in Alcoa's relative global position can be attributed to two factors.
While aluminum producers like Rio Tinto (RIO) and Aluminum Corporation of China (ACH) have been ramping up their production, Alcoa and other US-based aluminum producers including Century Aluminum (CENX) have been curtailing their high-cost capacity to survive the prolonged slump in commodity prices. In 2016, US aluminum production is expected to fall to levels seen after World War II, according to Reuters.
Article continues below advertisement
Higher costs in the US
One of the reasons US-based aluminum producers like Alcoa (AA) and Century Aluminum (CENX) find it hard to compete is due to the higher cost of electricity in the United States (DIA)—not to mention the alleged power subsidy that producers in China get. Relatively higher labor costs in the US have also not helped the cause of the US aluminum industry.
Both Alcoa and Century Aluminum closed their high-cost smelters in a bid to remain competitive in the current pricing environment. However, Alcoa's aluminum production has stabilized in the last couple of quarters. Given current dynamics, we might have seen the worst of falling shipments for these companies—in the near term, at least.
The worst might be behind us
There are two reasons that the worst could be over. First, both of these companies have already shut their high-cost facilities and have managed to negotiate fresh power supply agreements to keep some of their other facilities running. Second, aluminum prices have been strong this year, helping more smelters achieve cash breakeven.
Now the question is this: Can Trump's presidency revive Alcoa's aluminum production profile? We'll discuss this in detail in the next article.