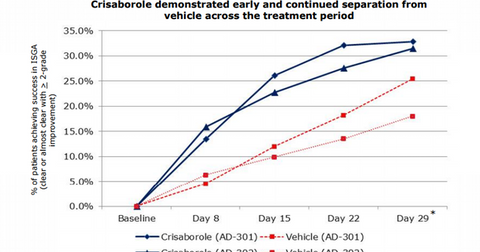 AnacorAcquisition Added Crisaborole to Pfizer's Portfolio
By Margaret Patrick

Updated
Crisaborole developments
On June 24, 2016, Pfizer (PFE) announced that it had completed the acquisition of Anacor Pharmaceuticals for a total net value of $5.2 billion. The acquisition added crisaborole, an investigational first-line mild-to-moderate atopic dermatitis drug, to Pfizer's portfolio.
Crisaborole is expected to target a significant unmet demand for about 18 million people. The FDA (U.S. Food and Drug Administration) has set the Prescription Drug User Fee Act (or PDUFA) date for crisaborole for January 7, 2017. To know more about the Pfizer-Anacor deal, please refer to What Investors Should Know about the Pfizer-Anacor Deal.
If Pfizer manages to leverage the Anacor acquisition, it may boost the company's share price as well as the shares of the iShares Russell 1000 (IWB). Pfizer makes up about 0.92% of IWB's total portfolio holdings.
Article continues below advertisement
Phase 3 results
Topical ointment crisaborole's NDA (New Drug Application) is based on the positive results of two pivotal Phase 3 studies. In these trials, crisaborole managed to demonstrate statistically significant improvement in efficacy compared to the placebo. The investigational drug has also shown a satisfactory safety profile and tolerability in clinical trials.
According to an Anacor Pharmaceuticals press release, "Crisaborole topical ointment, 2%, is an investigational non-steroidal topical anti-inflammatory PDE-4 inhibitor in development for the potential treatment of mild-to-moderate atopic dermatitis. Crisaborole is a novel boron-containing small molecule and, although the specific mechanism of action is not yet completely defined, Anacor believes that crisaborole inhibits PDE-4 in target cells, which reduces the production of pro-inflammatory cytokines thought to cause the signs and symptoms of atopic dermatitis."
With crisaborole, Pfizer may pose strong competition to other inflammation and immunology players such as AbbVie (ABBV), Johnson & Johnson (JNJ), and Celgene (CELG).
In the next part, we'll explore the growth prospects of Pfizer's metabolic and rare disease segments in 2016.