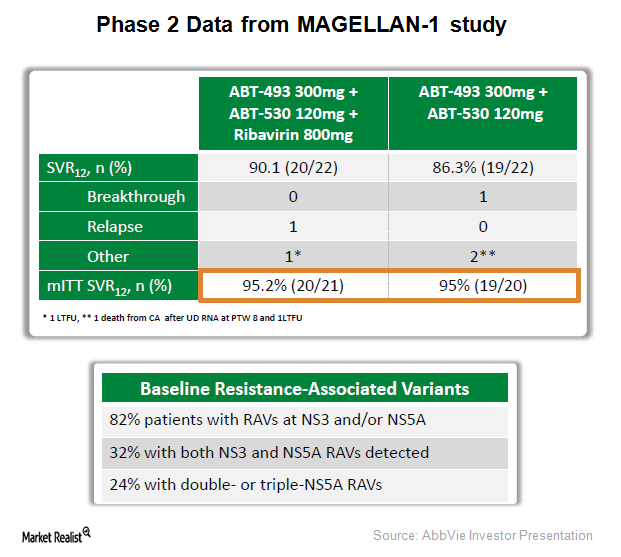 AbbVie's HCV Regimen Gets Breakthrough Therapy Designation
By Margaret Patrick

Nov. 30 2016, Updated 10:05 a.m. ET
Breakthrough therapy designation
On September 30, 2016, AbbVie's (ABBV) investigational next-generation hepatitis C virus (or HCV) regimen received breakthrough therapy designation (or BTD) from the FDA (U.S. Food and Drug Administration). The therapy for genotype 1 HCV patients who have failed to respond to a previous therapy of direct acting antivirals (or DAAs). These includes therapies containing NS5A inhibitors and protease inhibitors. The designation was granted based on results from AbbVie's Phase 2 Magellan-1 study.
AbbVie's press release stated, "According to the FDA, BTD is intended to expedite the development and review of therapies for serious or life threatening conditions."
If the next-generation HCV therapy manages to secure regulatory approval in the United States, it may prove beneficial for AbbVie's share prices as well as those of the iShares S&P 500 Growth ETF (IVW). AbbVie makes up about 0.56% of IVW's total portfolio holdings.
Article continues below advertisement
Magellan-1 study results
As you can see in the above chart, about 90.0% of the Magellan-1 clinical trial patients managed to demonstrate SVR12 when administered with AbbVie's next-generation HCV regimen ABT-530, an NS5A inhibitor, and ABT-493, an NS3/4 protease inhibitor. About 86.0% of the patients achieved SVR12 when administered with AbbVie's next-generation HCV regimen without ribavarin.
These clinical trial results have highlighted the strong efficacy profile of AbbVie's next-generation HCV regimen. After regulatory approval for this investigational therapy, AbbVie will pose strong competition to other HCV players such as Merck & Co. (MRK), Bristol-Myers Squibb (BMY), and Gilead Sciences (GILD).
In the next part, we'll take a detailed look at AbbVie's risankizumab research program.