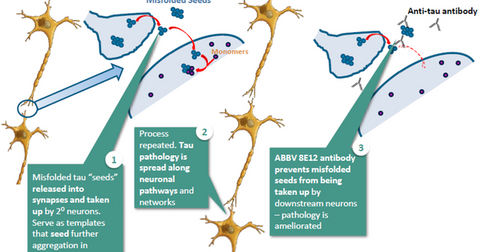 Can AbbVie's Anti-Tau Therapeutics Help Late-Stage Alzheimer's Patients?
By Margaret Patrick

Updated
Anti-tau therapeutics
Unlike Biogen (BIIB) and Eli Lilly (LLY), who have focused their attention on amyloid-beta based therapeutics, AbbVie (ABBV) is reluctant to enter this field. The company believes that amyloid-beta may be a trigger for Alzheimer's and not the cause of disease progression.
In AbbVie's R&D Day transcript, the company explained that there may be significant chances of preserving cognition in patients if anti-tau therapies are administered in the early stage of the disease. AbbVie also believes anti-tau therapeutics can also be effective in later stages of the disease.
By contrast, Amyloid-beta-based therapeutics have demonstrated statistically significant benefits only in early, mild-to-moderate Alzheimer's patients. So the possibility of a beneficial impact in later stages of the disease may prove to be a strong differentiating factor for anti-tau therapeutics.
Article continues below advertisement
Functioning of anti-tau therapeutics
The above diagram shows the functioning of the anti-tau therapy ABBV 8E12 and its role in preventing neurofibrillary "tangles," which are known to be a determining cause of Alzheimer's disease.
The National Institute of Aging describes tangles in the following way: "Tangles are abnormal collections of twisted protein threads found inside nerve cells. The chief component of tangles is a protein called tau. Healthy neurons are internally supported in part by structures called microtubules, which help transport nutrients and other cellular components, such as neurotransmitter-containing vesicles, from the cell body down the axon."
The National Institute of Aging also writes: "Tau, which usually has a certain number of phosphate molecules attached to it, binds to microtubules and appears to stabilize them. In AD, an abnormally large number of additional phosphate molecules attach to tau. As a result of this 'hyperphosphorylation,' tau disengages from the microtubules and begins to come together with other tau threads. These tau threads form structures called paired helical filaments, which can become enmeshed with one another, forming tangles within the cell. The microtubules can disintegrate in the process, collapsing the neuron's internal transport network. This collapse damages the ability of neurons to communicate with each other."
If anti-tau therapies prove effective as a cure for Alzheimer's disease, patients will not have to rely on drugs such as Allergan's (AGN) Namenda and Pfizer's Aricept, which only treat symptoms of the disease.
Notably, the iShares Russell 1000 ETF (IWB) has about 0.46% of its total portfolio holdings in ABBV.