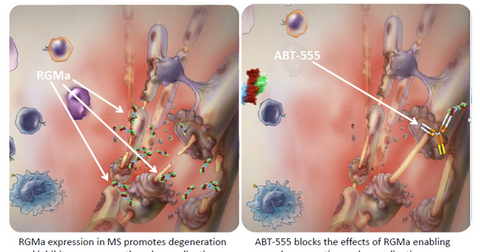 AbbVie's Plans for ABT-555, a Novel Multiple Sclerosis Therapy
By Margaret Patrick

Dec. 1 2016, Updated 10:04 a.m. ET
Multiple sclerosis research programs
AbbVie (ABBV) is currently involved in researching investigational therapy ABT-555 for neuroprotection and neuroregeneration in patients suffering with nervous system conditions such as multiple sclerosis (or MS). If the drug is approved by regulatory authorities, it will enable AbbVie to pose strong competition to other MS players such as Biogen (BIIB), GlaxoSmithKline (GSK), and Merck & Co. (MRK).
According to WebMd, "MS happens when your immune system attacks a fatty material called myelin, which wraps around your nerve fibers to protect them. Without this outer shell, your nerves become damaged. Scar tissue may form." ABT-555 aims to cure the root cause of this disease.
Article continues below advertisement
ABT-555 mode of functioning
The above diagram shows the mode of functioning of ABT-555. According to AbbVie's R&D (research and development) Day transcript, "When the nervous system is injured either by MS or by spinal cord injury, there's an increase in a protein called RGMa, Repulsive Guidance Molecule a. This is expressed on the surface of cells and it actually inhibit axonal regrowth and remyelination. ABT-555 binds RGMa and blocks it's effect, enabling axonal regeneration and remyelination to occur."
ABT-555 has managed to demonstrate efficacy in neuroprotection and neuroregeneration in preclinical models involving rats. The drug is expected to be explored in clinical trials for MS in 2016. The drug will also be studied as a therapy for spinal cord injury in 2017.
If ABT-555 manages to establish its efficacy and safety profile, it may have a positive impact on AbbVie's share prices as well as those of the iShares S&P 500 Growth ETF (IVW). AbbVie makes up about 0.56% of IVW's total portfolio holdings.
In the next part, let's explore the growth prospects for investigational immunology drug ABT-494.