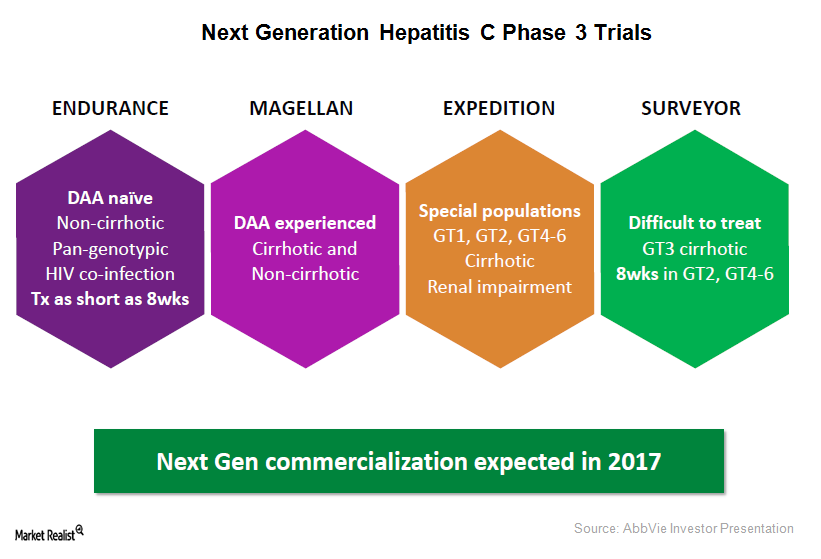 AbbVie Hopes to Commercialize Next-Generation HCV Regimen by 2017
By Margaret Patrick

Nov. 20 2020, Updated 3:36 p.m. ET
Next-generation HCV regimen
AbbVie (ABBV) plans to complete its Phase 3 registrational program for investigational next-generation Hepatitis C virus (or HCV) therapy by 2016. The new therapy aims to target underserved segments of the HCV population and offer them a faster cure for the disease.
AbbVie plans to commercialize this next-generation HCV therapy by 2017. The company may pose strong competition to other HCV players such as Merck & Co. (MRK), Gilead Sciences (GILD), and Bristol-Myers Squibb (BMY).
If AbbVie manages to secure FDA (U.S. Food and Drug Administration) approval for this therapy by 2017, it may have a positive impact on the company's share prices as well as those of the iShares Russell 1000 (IWB). AbbVie makes up about 0.46% of IWB's total portfolio holdings.
Article continues below advertisement
Phase 3 trials
The above diagram shows the four Phase 3 trials designed to test next-generation HCV therapies across multiple patient segments.
On November 11, 2016, AbbVie presented data from the eight-week arms of three registrational studies—Endurance-1, Endurance-3, and Surveyor-2. They have demonstrated high sustained virologic response rates (or SVR12) across all genotypes. Preliminary data from Endurance-1, Endurance-3, and Surveyor-2 have demonstrated SVR12 rates of 99.0%, 95.0%, and 97.0%, respectively.
According to HEPmag, "The medical term for a successful hepatitis C treatment outcome is sustained viral response (SVR). Undetectable HCV for 24 or more weeks after the end of treatment is an SVR24. Recently, many studies use the term SVR12, meaning that hepatitis C is undetectable for twelve or more weeks after the end of treatment."
In addition to these trials, AbbVie is also planning a head-to-head Phase 3 trial for treatment-naïve patients suffering with non-cirrhotic genotype 3 HCV.
In the next part, we'll look at data from the Phase 2 clinical trials of AbbVie's investigational next-generation HCV regimen.