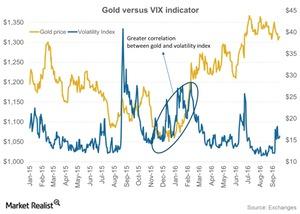 A Look at Precious Metals Volatility in the Wake of Trump's Win
By Meera Shawn

Updated
Market volatility
Overall market volatility rose following the election of Donald Trump as the 45th President of the United States. Investors were expecting the US dollar to tumble after his election, as there was little hope for economic rehabilitation. 
However, on the prospect of an economic stimulus, which could increase the inflation level and spur infrastructure spending, the dollar started rising.
Market volatility here is depicted by the CBOE Volatility Index (or VIX). Gold often moves in the same direction as volatility, as it's famous as a haven asset. 
The graph above shows the relationship between gold and volatility. Increasing unrest and market changes have been driving gold. Gold rises during economic turbulence, as was evident after the Brexit vote and immediately after Trump's victory.
Article continues below advertisement
Metal volatility increased
A rise in volatility often becomes obvious during a major economic event. The volatilities of gold, silver, platinum, and palladium were 20.2%, 30.4%, 19.5%, and 48.4%, respectively, on November 14, 2016. Palladium's volatility has been exponentially high over the past few days. 
Funds and miners
Most investors in the market were hedging risk, and only volatility saw a surge. The initial rally in gold boosted gold- and silver-based funds such as the iShares Gold Trust ETF (IAU) and the iShares Silver Trust ETF (SLV). However, the funds witnessed sharp falls in their returns right after precious metals gave up the rally. IAU and SLV have trailing-30-day falls of 2.2% and 2.8%, respectively.
Mining companies such as Buenaventura (BVN), AngloGold Ashanti (AU), Harmony Gold (HMY), and Aurico Gold (AUQ) are among the companies that fell alongside precious metals on November 14. These four stocks fell 2.4%, 0.26%, 1.1%, and 2.8%, respectively.