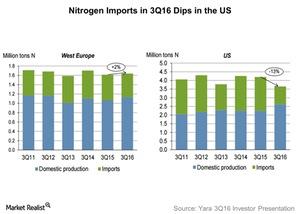 Do Yara's Earnings Spell 'Positive' for CF Industries?
By Adam Jones

Updated
The US nitrogen market
The United States continues to remain a net importer of nitrogenous fertilizers. According to CF Industries (CF), about 30.0% of the country's nitrogen requirement will be imported. Bear in mind that farmers apply nitrogen fertilizer before each planting season to increase the yield.
Article continues below advertisement
Nitrogen deliveries fell
In the above graph, you can see that nitrogen deliveries (or shipments) in the United States (XLB) fell as much as 13.0% in 3Q16. While overall deliveries in the United States fell year-over-year, deliveries through domestic production have risen. This is very positive for North America–based producers such as CF Industries (CF), PotashCorp (POT), Terra Nitrogen (TNH), and Agrium (AGU). We'll watch closely how deliveries for these companies performed in 3Q16 earnings in the coming weeks.
In Western Europe, deliveries increased slightly by 2.0% compared to 3Q15. However, despite lower fertilizer prices, Yara International (YARIY) said its deliveries in Brazil rose as much as 11.0%.[1. including deliveries from Yara's Galvani division] In the same quarter, deliveries for the entire industry rose 6.0%.
Impact on margins
Lower fertilizer prices and deliveries impacted Yara's 3Q16 margins. With little control over these two drivers, fertilizer companies are focusing on reducing costs of production to maintain margins. Yara has taken initiatives that are expected to improve the company's EBITDA (earnings before interest, tax, depreciation, and amortization) by 2020.
We'll look at Yara's EBITDA in more detail in the next part.