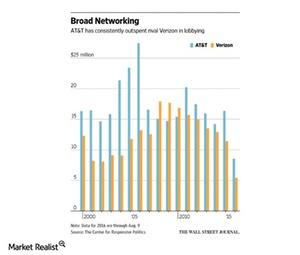 Regulatory Environment Puts AT&T Deal to the Test
By Shirley Pelts

Aug. 18 2020, Updated 5:14 a.m. ET
Politicians voice concern over the acquisition
AT&T's (T) proposed acquisition of Time Warner (TWX) is facing a political barrage. According to a Reuters report from October 26, 2016, Democratic presidential nominee Hillary Clinton said she believes that AT&T's proposed acquisition of Time Warner requires further study and analysis.
A Wall Street Journal report from late October cited Republican presidential nominee Donald Trump. He said that if elected president, he would be reluctant to approve the acquisition "because it's too much concentration of power in the hands of too few."
Article continues below advertisement
According to the report, other politicians have also expressed their concerns about the acquisition. They include Democratic vice-presidential nominee Tim Kaine and former presidential candidate Bernie Sanders. The report also stated that AT&T has lobbied hard in Washington DC compared to its rival Verizon Communications (VZ), citing data from Center for Responsive Politics. The Wall Street Journal report also stated that in 2016, AT&T's PAC (political action committee) donated $4.2 million to both the Republican and Democratic parties.
AT&T's view on the acquisition
AT&T says it doesn't believe the acquisition will result in less choices for consumers or in higher prices. The company said that "vertical mergers like this one have long been recognized as being fundamentally pro-competitive, and for good reason. This transaction is about giving consumers more choices, not less. It is about expanding the distribution of Time Warner's content, not restricting it."
Comcast's (CMCSA) acquisition of a 51.0% stake in NBCUniversal from General Electric (GE) was approved by the FCC (Federal Communications Commission) after a 13-month review.