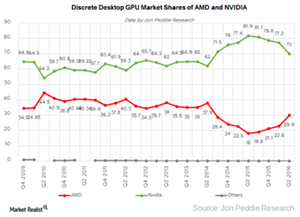 Will Polaris GPU Help AMD Regain the Market Share It lost to NVIDIA?
By Puja Tayal

Updated
AMD's product development efforts reflect in its GPU market share
In the previous part of the series, we discussed how Advanced Micro Devices (AMD) has strengthened its balance sheet, giving it the flexibility to increase spending in new product development. Let's now see how AMD's efforts are playing in the desktop discrete GPU (graphics processing unit) market, which is dominated by NVIDIA (NVDA).
Article continues below advertisement
AMD regains share of discrete GPU market
The above graph from Jon Peddie Research shows that AMD lost market share to NVIDIA between calendar 2Q14 and 2Q15. During this period, AMD's market share fell from 37.9% to 18%. The company started regaining its lost share in 3Q15 as it created Radeon Technology Group to develop GPUs that can compete with NVIDIA.
AMD witnessed the biggest increase in market share (7 percentage points) to 29.9% in calendar 2Q16, when overall discrete GPU shipments fell by 20.8% due to seasonal weakness. The 2Q16 figures do not include sales of Polaris GPUs. If we look at the 2Q figures of 2010, 2012, 2013, and 2014, AMD's market share peaked during this time and then fell in 3Q16. AMD's fiscal 3Q16 earnings will determine if this trend would continue in 2016, or if Polaris GPU will add an exception.
Can AMD sustain its GPU market share?
Another concern is whether AMD will be able to sustain this growth as it did not compete directly with NVIDIA in fiscal 3Q16. While NVIDIA's Pascal-based GTX 1080 and 1070 focused on high-end customers, AMD' Polaris-based Radeon RX 480 and 470 focused on mainstream customers with a price tag of $199. NVIDIA plans to launch its lower end GTX 1050 and 1050 Ti in October 2016 at an expected price of $119 and $149, respectively, making it difficult for AMD to sustain its market share.
Wells Fargo analyst David Wong believes that AMD will gain market share in 2H16 and probably throughout 2017 by tapping the mainstream market with its Polaris GPUs and high-end market with its upcoming Vega GPUs, which is due to launch by the end of 2016. Both Polaris and Vega will be built on Samsung's (SSNLF) 14 nm (nanometer) FinFET (Fin Field Effect Transistor) technology.
Now let's look at AMD's GPU roadmap for the remainder of 2016 and fiscal 2017.