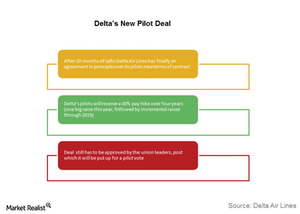 Will Delta Air Lines' New Deal Make Its Pilots Happy?
By Ally Schmidt

Updated
Is the pay raise good enough?
After 20 months of talks and a nine-month standoff, Delta Air Lines has finally managed to reach an agreement in principle with its pilots for a new contract. Delta's management called the deal an "industry-leading package of pay, benefits and work rules."
According to the new contract, reached after US federal mediators intervened, Delta's pilots will receive a 30% pay hike over four years. It will consist of one big raise this year followed by incremental raises through 2019. However, the deal has to be approved by union leaders, who have seven days to review it. Then it has to be presented to the pilots for a vote.
According to a statement by union leader John Malone, it looks like the deal will get union approval. Malone said the deal adequately rewards the pilots and well help the growth of the profession.
Article continues below advertisement
The old strategy didn't work
To get the union to agree to the deal, Delta tried a strategy it used in June 2012, the last time negotiations were held. That year, Delta provided pilots with career advancement opportunities by acquiring small jets from Southwest Airlines (LUV). As a trade-off, Delta got to expand its regional jet fleet, which in turn allowed it to retire the aging 50-seat regional jet.
This time around, Delta sought approval from its pilots to expand its use of 70–76 seat planes, outsourcing more jobs to regional airlines. The current in-principle deal doesn't include any such provision for Delta.
Delta still has about 125 50-seat planes and will run them viably as long as fuel costs are low. However, maintenance costs will continue to be a drag. It will retire a few of those planes through the newly ordered 100–110 seat Bombardier CS100 jet.
Delta's deal with its pilots is significant, not only for Delta but for all major airlines in the industry. These airlines include Southwest Airlines (LUV), United Continental (UAL), and American Airlines (AAL). In the next part, we'll see how the deal could affect the entire airline industry.
The PowerShares Dynamic Large Cap Value ETF (PWV) holds 1.7% of its portfolio in Delta Air Lines.