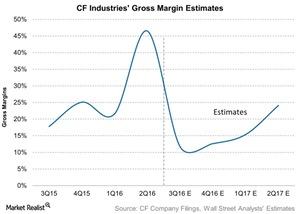 Will CF Industries' Margins Contract in 3Q16?
CF's margins
Earlier in this series, we saw CF Industries' (CF) sales estimates for 3Q16 and beyond. Here, we'll discuss the company's gross margin estimates.
Most of CF's gross margin contribution comes from ammonia. In 2Q16, the ammonia segment's gross margin accounted for about 41% of CF's total gross margin. Keep in mind that ammonia is a key nitrogen fertilizer that's upgraded to other nitrogen fertilizers such as urea and UAN.
Article continues below advertisement
3Q16 estimates
In 3Q16, Wall Street analysts expect CF's gross margin to come in at 10.3%, a contraction from 17.8% in 3Q15. Over the past three years, CF's gross margins have contracted. To give you a perspective, in 2013, CF's gross margin stood at 46%, and in 2015 it contracted to 35.9%.
This trend is expected to continue in 2016, with the company's gross margin expected to contract to 24.1%. This should explain why the stock has been battered throughout 2016.
The situation isn't expected to get better in 2017. Analysts expect CF's gross margin to further contract to 20.8% in the year.
What's to blame?
Falling fertilizer prices (XLB) and input costs have been the key drivers of CF's margin contraction. Falling fertilizer prices flatten cost curves and squeeze margins.
We'll keep a close eye on updated on fertilizer prices and input costs in CF's, PotashCorp's (POT), Agrium's (AGU), and The Mosaic Company's (MOS) earnings for clues on when the companies' respective managements are hoping for a price reversal.
Continue reading to learn about CF's earnings estimates.