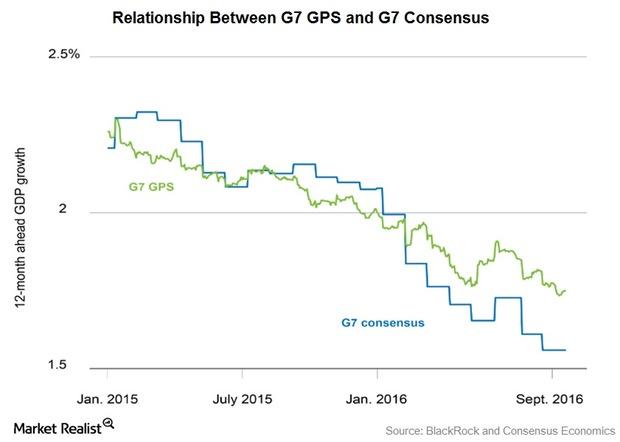 Will BlackRock's GPS Tool Give a Better GDP Outlook?
By Richard Turnill

Oct. 5 2016, Published 12:09 p.m. ET
This week's chart shows the new BlackRock Macro GPS economic indicator and the good news it implies about the global growth environment ahead.
We see slow global economic growth ahead, but we don't expect it to be as soft as consensus estimates. Why? Our new BlackRock Macro GPS indicator implies positive growth surprises may be on the horizon, as evident in this week's chart.
The blue line in the chart above shows consensus estimates for G7 gross domestic product (GDP) growth over the next 12 months. Our GPS indicator (the green line above) represents where consensus estimates could be in three months' time. The GPS suggests current consensus growth estimates may be too pessimistic, potentially helping underpin investor risk appetite.
Article continues below advertisement
Market Realist – Traditional versus conventional methods
Traditionally, a country's GDP provides a measure of the monetary value of the goods and services it produces in a specific year. The measure indicates whether an economy is growing or contracting. There are two ways to calculate GDP.
Based on spending – A country's GPD is a measure of consumer (XLY) (XLP) spending plus business investment and government spending. It also includes the country's net exports—exports minus imports.
Income approach – The GDP is a country's national income plus its indirect business taxes and depreciation as well as foreign factor income.
Economists also adjust for inflation in any given year so that it reflects the price levels that prevailed in the base year or reference year. As a measure, GDP has drawbacks. It doesn't account for illegal activities and softer aspects.
In order to get an early peek at the likely evolution of world (ACWI) (VEU) growth (IWF) (IWO) expectations, BlackRock's Macro GPS tool aims to improve the assessment of the economic outlook by exploiting both traditional and new sources of information.
In the coming parts of the series, we'll learn more about BlackRock's Macro GPS tool and its implications.