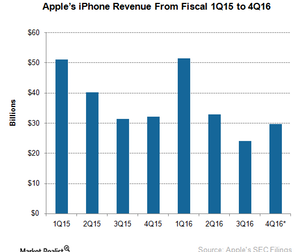 What Could Boost iPhone 7 Sales above Those of the iPhone 6S?
By Puja Tayal

Updated
Apple's iPhone 7 launch comes amid slowing smartphone demand
In the earlier parts of the series, we saw that many semiconductor suppliers are relying on Apple's (AAPL) iPhone 7 to boost demand in a slowing smartphone market. However, many analysts fear that the iPhone 7 would not be able to replicate the success of the iPhone 6S as the demand for the high-end smartphone slows.
Article continues below advertisement
Apple's revenue guidance for calendar 3Q16
As seen from the above graph, the fiscal first quarter, which ends in December of every year, is the strongest quarter for Apple's iPhones. The handset maker launches its flagship product in September of every year, and the first quarter reflects a full quarter of the new iPhone sales. The iPhone 6S, which was released in 2015, performed better than the iPhone 6, which was launched in 2014.
However, things look a little bleak for the iPhone 7. Apple expects its flagship product to generate ~$30 billion revenue in fiscal 3Q16, which is lower than the $33 billion earned by the iPhone 6S in fiscal 3Q15. However, these estimates were made back in July 2016—a lot has changed since then.
Samsung's Note 7 recall brings opportunity for Apple
Samsung's (SSNLF) Galaxy Note 7 debacle brings an opportunity for Apple to convert Note 7 users into iPhone 7 users. This benefit was not available to Apple in 2014 or 2015. Any declines from slow demand in the smartphone market may be slightly offset by new customers who switch from Samsung to Apple. Drexel Hamilton analyst Brian White expects Apple (AAPL) to sell an additional 8 million iPhones in 2016 after the Galaxy Note 7 recall.
The extra revenue Apple could earn from the Note 7 recall may not be visible in fiscal 4Q16 revenue, but it should be seen in its fiscal 1Q17 revenue. There is a possibility that the iPhone 7 might outperform the iPhone 6S. However, it remains to be seen how consumers react to the iPhone 7 this holiday season.