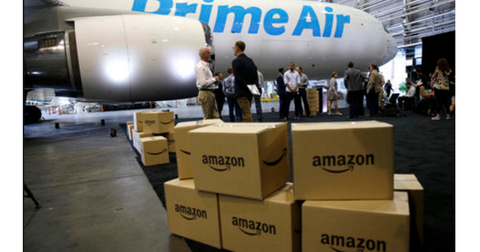 Will Amazon's Parcel Delivery Ambitions Disrupt United Parcel Service?
By Samuel Prince

Updated
Amazon's foray into delivery services
Jeffrey Bezos's e-commerce giant, Amazon.com (AMZN), entered into an agreement with Air Transport Service Group (ATSG) in March 2016. According to the agreement, Amazon Fulfillment Services, an affiliate of AMZN, will operate ATSG's 20 Boeing (BA) 767 freight aircraft to deliver ordered merchandise to AMZN's customers in the US. The lease duration of the 20 aircraft will be five to seven years.
Article continues below advertisement
Why does Amazon want to control its logistics?
Amazon has already made a mark in the e-tailing and warehousing space, and now it wants to dominate the logistics space. According to a report by the Wall Street Journal, AMZN's shipping costs as a percentage of revenues have been steadily climbing quarter-over-quarter since 2010. To tackle this challenge, the e-commerce giant has expanded its delivery options to cut down its delivery costs.
The objective behind the move is to get better pricing and tight control over the logistics part of the e-commerce business. Better pricing will be derived through erasing the parcel company's margins and nullifying the transaction costs from dealing with outside sellers.
AMZN also incurs millions of dollars in inventory storage cost. With jets at its disposal, it can reduce the time taken for delivery, and it can also supply merchandise from distantly located distribution centers. The proposed acquisition of French package delivery company Colts Prive will make AMZN a direct competitor with United Parcel Service (UPS) and FedEx (FDX).
Investors looking to invest indirectly in express delivery giants like UPS and FDX can consider the SPDR S&P Transportation ETF (XTN). Both the companies make up 5.1% of the portfolio holdings of XTN.
Article continues below advertisement
How will UPS be affected?
Industry veterans say it's virtually impossible for AMZN to replicate the huge hub-and-spoke model that UPS has built over many years. Another view holds that AMZN's e-commerce competitors may—or may not—trust AMZN's delivery network for their own deliveries, which makes it the million dollar question. Presently, both Amazon and UPS are trying newer technologies, such as drones, to speed up and innovate their delivery process.
Amazon's use of drone technology is mainly to deliver packages directly to customers within least time possible after order placement. The biggest concerns here are privacy and public security. UPS will focus on using drones to haul shipments between its own warehouses, but the company could further use the drones to carry shipments from airports to warehouses in more remote areas within the US.
In the next part, we'll go through the analyst estimates for UPS's 3Q16 earnings.