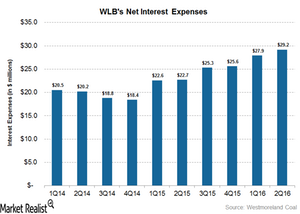 Why Westmoreland Coal's Leverage and Liquidity Position Are Important for Investors
By Sheldon Krieger

Oct. 18 2016, Updated 8:04 a.m. ET
Westmoreland Coal's debt
Westmoreland Coal's (WLB) interest expenses have been continuously on the rise since 4Q14. For 2Q16, WLB's interest expenses came in at $29.2 million, as compared to $22.7 million in 2Q15 and $27.9 million in 1Q16. The rise in interest expenses was mainly due to a rise in the company's debt level on account of its new acquisitions.
According to company filings, the book value of Westmoreland Coal's (WLB) debt was ~$1.1 billion as of June 30, 2016. Almost one-third of this debt is due for payment in 2018, and the majority of the debt is due after 2019.
It's also significant to note that Westmoreland Coal has an asset retirement obligation (estimated costs to reclaim surface land and support facilities at its mines and power plants) of about $450 million going forward.
Article continues below advertisement
Cash Position
As of June 30, 2016, Westmoreland Coal had $35.9 million in cash and cash equivalents on its books. It also has $43.3 million available under the company's corporate revolving credit facility.
For fiscal 2016, Westmoreland Coal maintained its cash interest guidance of approximately $90.0 million. Moreover, the company expects to generate $60 million–$80 million in the form of free cash flows.
Off-balance-sheet risk
Off-balance-sheet risks include self-bonds and surety bonds. Recent bankruptcies in the coal (KOL) mining industry heightened regulatory pressures on reclamation bonding and self-bonding in particular.
According to the latest company's filings, Westmoreland Coal posted about $384 million in surety bonds. These bonds are supported by cash collateral of about $103 million. WLB peers Peabody Energy (BTUUQ), Cloud Peak Energy (CLD), and Arch Coal (ARCH) posted $463 million, $439 million, and $188 million, respectively, in the form of surety bonds.
Any deterioration in the financial health of the company could require it to post additional collateral against these bonds. Collateral comes with a cost and can have a negative impact on a company's liquidity position.