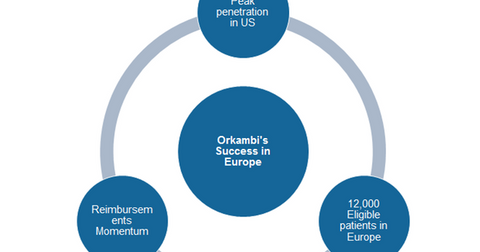 Why Europe Is an Important Market for Vertex's Orkambi
By Jillian Dabney

Updated
Orkambi in Europe
Orkambi, manufactured by Vertex Pharmaceuticals (VRTX), is reaching its peak penetration in the United States. Getting reimbursement approvals in Europe will be an important move for the drug. Although there are 12,000 eligible patients in Europe who are 12 years and older, Orkambi hasn't yet received reimbursement approvals for these patients. Europe, the United Kingdom, Germany, France, Italy, and Spain are the major markets that make up 80.0%–85.0% of the total CF (cystic fibrosis) population.
Article continues below advertisement
Orkambi in Germany
On December 15, 2016, Vertex expects reimbursement approval for Orkambi from Germany. Until finalizing an agreement with German regulators, Vertex is selling the drug in the country on a market price basis. Generally, the regulated price is lower than the market price. Before the reimbursement approval, there's an assessment of the value provided by the drug to arrive at a pricing arrangement with the government. Orkambi's initiation in Germany is lower than expected. Perhaps the reason is that Germany is a fragmented market.
Orkambi in France
Vertex is providing Orkambi in France through an early access program. Within six months of its launch there, Orkambi had more than 50.0% penetration. Although Vertex has been selling the drug in France since the beginning of 2016, the company hasn't yet recorded any revenue from the country. The drug doesn't have an agreed price, so VRTX can't record the revenue.
In 2017, Vertex might have an approved price in France. If the approved price is lower than the current market price, VRTX has to repay the government. Orkambi's success in Europe is critical for Vertex.
Companies such as BioMarin Pharmaceutical (BMRN), Alexion Pharmaceuticals (ALXN), and Regeneron Pharmaceuticals (REGN) operate in the high-margin rare disease space. To get exposure to Vertex, you can invest in the First Trust NYSE Arca Biotechnology ETF (FBT). Vertex accounts for 3.1% of the fund's total assets.