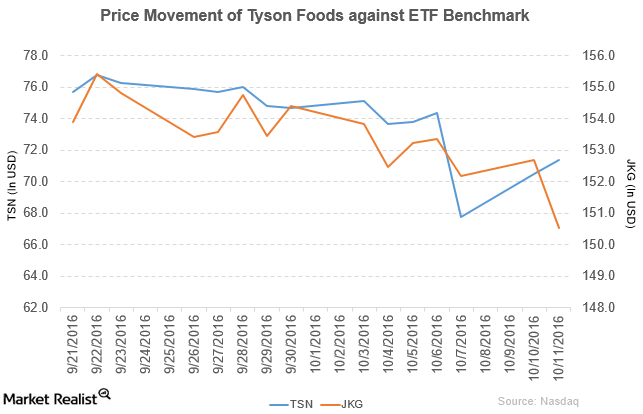 Why Did Tyson Foods Rise on October 11?
Price movement
Tyson Foods (TSN) has a market cap of $28.8 billion. It rose 1.3% to close at $71.38 per share on October 11, 2016. The stock's weekly, monthly, and year-to-date (or YTD) price movements were -3.1%, -3.3%, and 34.7%, respectively, on the same day.
TSN is trading 3.7% below its 20-day moving average, 4.1% below its 50-day moving average, and 8.4% above its 200-day moving average.
Article continues below advertisement
Related ETF and peers
The iShares Morningstar Mid Core ETF (JKG) invests 1.3% of its holdings in Tyson Foods. The ETF tracks a market cap–weighted index of US mid-cap firms that exhibit both growth and value characteristics as determined by multifactor selection. The YTD price movement of JKG was 6.5% on October 11.
The market caps of Tyson Foods's competitors follow:
Latest news on Tyson Foods
Tyson Foods rose on October 11, 2016, after its new investment plan. Reuters reported, "Tyson Foods Inc., the largest US meat processor, took a 5 percent stake in plant-based protein maker Beyond Meat amid growing pressure on food companies to reduce environmental and health risks by changing the way they source protein."
Article continues below advertisement
Performance of Tyson Foods in fiscal 3Q16
Tyson Foods (TSN) reported fiscal 3Q16[1. ended July 2, 2016] sales of $9.4 billion, a fall of 6.9% from the $10.1 billion reported in fiscal 3Q15. Sales of the company's Chicken, Beef, and Prepared Foods segments fell 0.51%, 12.1%, and 0.06%, respectively. Sales of the Pork segment rose 5.3% between fiscal 3Q15 and fiscal 3Q16. The company's gross profit margin and operating income rose 33.0% and 36.2%, respectively.
Its net income and EPS (earnings per share) rose to $484.0 million and $1.25, respectively, in fiscal 3Q16, compared with $343.0 million and $0.83 in fiscal 3Q15. It reported adjusted EPS of $1.21 in fiscal 3Q16, a rise of 51.3% from fiscal 3Q15.
TSN's cash and cash equivalents fell 71.4% and its inventories rose 1.4% between fiscal 4Q15 and fiscal 3Q16. Its current ratio rose to 1.8x, and its debt-to-equity ratio fell to 1.3x in fiscal 3Q16, compared with 1.5x and 1.4x, respectively, in fiscal 4Q15.
Quarterly dividend
Tyson Foods (TSN) declared a quarterly dividend of $0.15 per share on its Class A common stock and $0.14 per share on its Class B common stock. The dividend will be paid on December 15, 2016, to shareholders of record at the close of business on December 1, 2016.
Projections
Tyson Foods (TSN) reaffirmed the following projections for fiscal 2016:
sales of ~$37 billion
capital expenditure of ~$725 million
net interest expense of ~$245 million
adjusted EPS of $4.40–$4.50
operating margin of more than 12% for the Chicken segment
operating margin of 1.5%–3.0% for the Beef segment
operating margin of more than 10% for the Pork segment
operating margin at the low end of 10%–12% for the Prepared Foods segment
Next, we'll look at Apple (AAPL).