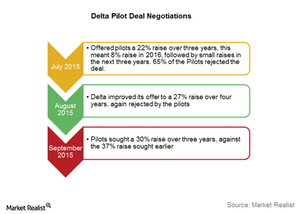 Why Are Delta Air Lines Pilots at War with the Company?
By Ally Schmidt

Oct. 7 2016, Updated 8:06 a.m. ET
What Delta owes its pilots
When airlines were struggling to turn a profit, pilots were paid a certain amount and then promised a significant share of future profits. That turned out to be a whole lot of money when airlines turned profitable in 2014.
Naturally, the airlines wanted to change this. Delta Air Lines (DAL) got this opportunity at the end of 2015 when the contract with its pilots expired.
The first deal in July 2015 offered pilots a 22% raise over three years. This meant about an 8% raise in 2016 followed by smaller raises in the following two years. About 65% of the pilots rejected the deal. In August, Delta improved its offer to a 27% raise over four years. This was again rejected by the pilots. In September, the pilots sought a 30% raise over three years, against the 37% raise they sought earlier.
In addition to the conflict over pay raises, Delta's pilot were also unhappy about the changes in their lucrative profit sharing, sick leave, and work-related rules.
Article continues below advertisement
Series overview
In this series, we'll take a look at Delta's proposed new deal for a pay raise for its pilots. We'll also see why this deal will be important for other airlines such as Southwest Airlines (LUV), United Continental (UAL), and American Airlines (AAL). Then we'll see how a pilot shortage came about and how the airlines are coping with it.
Investors can get exposure to DAL by investing in the PowerShares Buyback Achievers ETF (PKW), which invests 1.6% of its portfolio in DAL.
Let's start by looking in detail at Delta's new pay raise deal for its pilots.