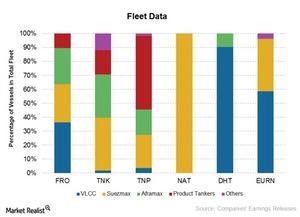 Which Crude Tanker Companies Lost More in 3Q?
By Sue Goodridge

Dec. 4 2020, Updated 10:52 a.m. ET
Fleet profile
The fleets that tanker companies employ have several fundamental implications.
Article continues below advertisement
Tanker demand
Crude tanker demand generally depends on regional factors. For example, Suezmax vessels are preferred when transporting oil from the Middle East to Europe through the Suez Canal, as fully loaded VLCCs (very large crude carriers) cannot pass through this canal.
VLCCs are generally more in demand for longer routes, especially when transporting oil to Asian countries. China, one of the largest importers of oil, imports oil mostly through VLCCs. The US export oil ban was lifted at the end of December 2015. The infrastructure of US ports doesn't support large tankers. Only small tankers, especially Aframax, are in demand in this region.
Vessel characteristics
VLCCs transport almost twice the amount of oil in a single trip as compared to Suezmax vessels. These vessels attract higher day rates as compared to smaller vessels but are also costlier with higher fixed costs.
Article continues below advertisement
3Q tanker rates
The third quarter wasn't very good for tanker rates. In August 2016, the middle of the third quarter, tanker rates dropped to some of their lowest levels. Suezmax rates fell to as low as $4,000 per day. Rates recovered quickly and average September Suezmax rates were 71% higher than average rates in August.
The quarter was worse for smaller vessels, as average rates in the third quarter compared to the previous quarter were down 54% and 51% for Suezmax and Aframax, respectively. VLCC rates were down 30% in the third quarter compared to the previous quarter.
Fleet comparison
DHT Holdings (DHT) has 19 VLCCs, which make up 90% of its total fleet. Euronav's (EURN) 31 VLCCs make up 58% of its total fleet. Frontline (FRO) has 21 VLCCs in its fleet of 58 tankers. Nordic American Tankers (NAT) owns 25 Suezmax tankers with no presence in other tanker segments. Teekay Tankers (TNK) has 22 Suezmax and 18 Aframax tankers in its fleet of 58 tankers. Tsakos Energy Navigation (TNP) and Teekay have both product tankers and crude tankers. This fleet data is based on current active fleets only and doesn't include newbuilds in the pipeline. To learn more about these companies' newbuilds, continue to the next part of this series.