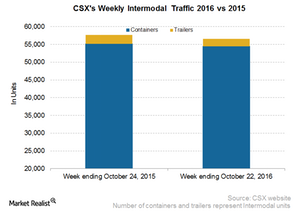 Where Does CSX's Intermodal Traffic Stand among Industry Peers?
By Samuel Prince

Updated
CSX's Intermodal Traffic
In the week ending October 22, 2016, CSX Corporation's (CSX) total intermodal traffic fell 2%. Overall intermodal volumes fell from ~58,000 units in the week ended October 24, 2015, to ~57,000 units in the week ended October 22. CSX's overall intermodal traffic slump in percentage came in contrast with the rise reported by US railroads in the same category.
Article continues below advertisement
Why intermodal matters for CSX
Key corridors such as I-95, I-90, and some Southeastern US corridors tend to drive growth in merchandise and intermodal. CSX expects a 95% clearance at the end of 2016 for double-stack container traffic on the east coast. CSX's new Carolina Connector will provide hub connectivity to additional lanes in the mid-Atlantic market.
For CSX, excess truck capacity is a deterrent for intermodal business growth. The company expects some short-haul volume losses in the domestic intermodal space over the next few quarters. But for 2017, the company is hopeful that the implementation of trucking regulations such as the ELD (Electronic Logging Device) will tighten truck capacity, thereby providing scope for higher intermodal volumes.
Notably, railroads (GWR) are four times more fuel efficient than trucks (JBHT), and about half of US rail intermodal volumes consist of imports and exports. Railroads are more also environmentally friendly than the heavy reliance on highways for freight transport. In 2015, intermodal accounted for ~20% of revenue for major US railroads (UNP).
Intermodal traffic is largely dependent on factors like access to major seaports, highway-to-rail conversions, exclusivity to certain ports, and retail sales.
ETF investment 
Investors looking for exposure to the transportation space can invest in the Morningstar Wide Moat ETF (MOAT). All major US-originated railroads can be found in the portfolio holdings of MOAT.
Now let's take a look at the direction of railcar traffic for Union Pacific.