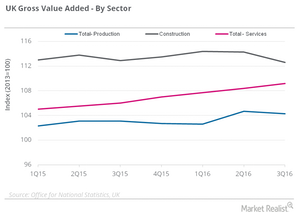 What's Been Helping the UK GDP after the Brexit Vote?
By Surbhi Jain

Nov. 22 2019, Updated 6:27 a.m. ET
Consumer services helped, production not so much
Let's take a look at the components that added up to a rising UK GDP. After the Brexit decision, services were a positive factor, while production ended up to be a drag.
Take a look at the graph below. Based on an index chained to 2013=100, production fell after 2Q16, and construction continued its downward trend from the previous quarter.
However, services have been adding value to national output for the United Kingdom (EWU) for more than half a decade. UK-based service sector companies such as Barclays (BCS), Lloyds Banking (LYG), and the Royal Bank of Scotland (RBS) rose 0.76%, 2.9%, and 2.6%, respectively, at the close of trading on October 27, 2016.
Article continues below advertisement
Services are gaining ground in the United Kingdom
In one of our earlier articles, Service Sector's Contribution Has Been Rising in the UK, we made an important point regarding the economic impact of the Brexit. Companies in the goods production sector are more vulnerable to the consequences of the Brexit than are those in the service sector. That's because their futures depend on the whether the United Kingdom enters into a trade agreement with the European Union (VGK) and what the terms of that agreement would be.
The downside risk of the Brexit to the production sector is associated with the possibility of tariffs being imposed on goods exported to the European Union. Meanwhile, the service sector contribution to the UK economy has been rising, from 76.0% a decade ago to currently more than 79.0%.
Within the services sector, distribution and hotels and restaurants are particularly doing very well. They're followed by transport, storage, and communication, as you can see in the above graph.
Within the goods-producing sector, the output from mining and quarrying does seem to be adding some value to national output. The other goods-producing industries are showing declining output for now.
The Brexit vote seems to have weighed down the goods-producing sector in the United Kingdom. Services continue to contribute to overall economic growth and output with a rising trend. However, this alone can't be considered a sound basis for making an investment decision.