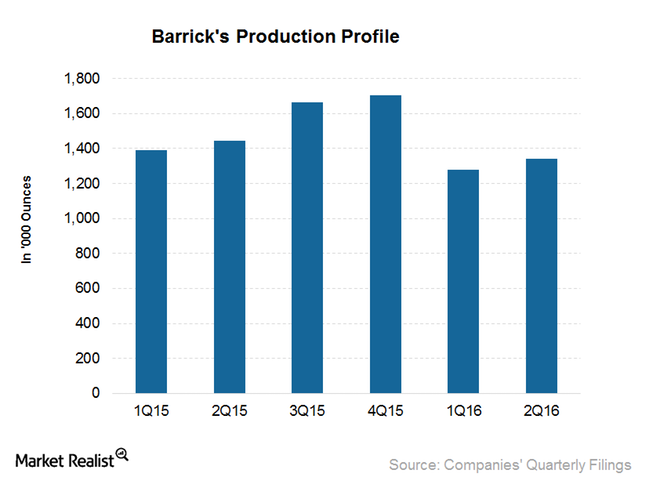 How Will the Veladero Mine Shutdown Affect Barrick Gold?
Suspension of Veladero mine
On September 15, 2016, Barrick Gold (ABX) reported that the government of Argentina's San Juan province had temporarily suspended operations at its Veladero mine. The suspension came in the wake of a processing solution spill at the mine on September 8. The solution was later confirmed to have had cyanide in it. While the company contends that it was a small amount of solution that was promptly cleaned before it could reach waterways, the government had a different opinion. The government not only suspended the mine operations "indefinitely," it also made the decision to take Barrick to the federal court.
Article continues below advertisement
Resumption of work
Earlier, the court wasn't convinced that the repairs were sufficient for the mine to reopen. An Argentinian news agency claimed that Barrick doesn't even have security cameras and sensors installed as required, which could prevent new spills from happening. However, on October 4, 2016, Barrick issued another press release stating that normal operations have resumed at the Veladero mine following the approval of San Juan authorities.
Impact on Barrick
Veladero produces ~9% of the company's total gold (GLD) volumes. Barrick said it will continue to assess the impact of the temporary suspension on production and costs for 2016. However, it maintained its guidance for now at 5 million–5.5 million ounces of gold production and all-in sustaining costs of $750–$790 per ounce.
Such events could hamper the company's reputation in the long term, in addition to costing money. The Samarco mine, which is owned by Vale (VALE) and BHP Billiton (BHP), had a dam burst last year. Operations remain suspended amid court procedures. Goldcorp (GG) also faced a controlled shutdown at one of its mines due to an illegal blockade. We'll delve deeper into this topic in the next part of this series.