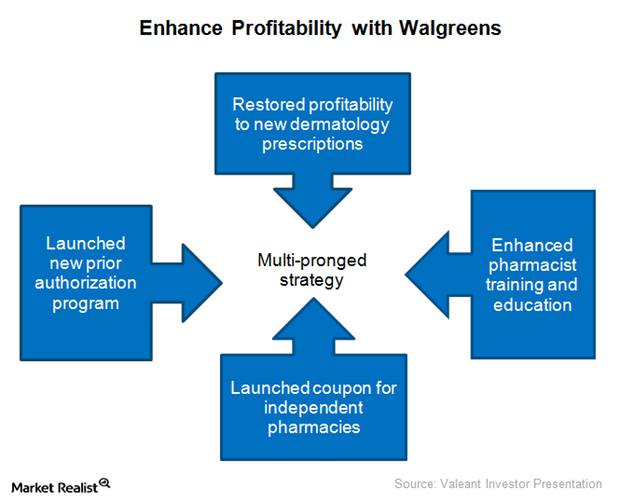 Valeant Looks to Boost Profit Margins through the Walgreens Deal
Walgreens deal
On December 15, 2015, Valeant Pharmaceuticals International (VRX) announced its decision to enter into a fulfillment agreement with Walgreens. In line with the terms of the deal, Valeant reduced prices by 10.0% for certain dermatological and ophthalmological products offered through Walgreens.
Article continues below advertisement
Challenges that Valeant faces
On October 30, 2015, Valeant Pharmaceuticals terminated its relationship with specialty pharmacy Philidor Rx Services after allegations of malpractice. To know more about this controversy, please refer to What Happened in the Valeant-Philidor Controversy?
The end of the relationship with Philidor, coupled with certain external and internal disruptions, has negatively affected the number of refill prescriptions filled by Valeant. Lower refill prescriptions have stunted the growth of dermatology prescription volumes.
Many of the drugs distributed through Walgreens require prior authorization from payers. The manufacturer is reimbursed for a drug only if the health insurer approves the prescription, which severely restricts physician and patient access to the drugs. The problem is especially aggravated for patients with chronic conditions.
To ensure patient access, Valeant allowed Walgreens to dispense its drugs even if the prescription wasn't authorized by the payers. In some cases, Valeant didn't receive any payment from the payer but still paid pharmacy fees to Walgreens for distributing the drugs. This resulted in Valeant reporting negative average selling prices for certain dermatology products.
To counter these problems and boost its profit margins, Valeant formulated a multipronged strategy. The strategy is expected to enable Valeant to compete effectively with peers such as Endo International (ENDP), Mallinckrodt (MNK), and Gilead Sciences (GILD).
Article continues below advertisement
Restore profitability
On August 5, 2016, Valeant Pharmaceuticals increased the copay levels for drugs that require prior authorization and are disbursed before the requirement is met. This will ensure that even if the health insurer refuses to pay for the drug, Valeant will be able to cover the pharmacy fees it pays to Walgreens. To know more about copays, please refer to Making sense of health insurance companies' payment options.
Prior authorization program
On August 4, 2016, Valeant Pharmaceuticals launched a program called CoverMyMeds. The program will make it easier for patients and physicians to obtain prior authorization for Valeant's dermatology products.
Article continues below advertisement
Couponing for independent pharmacies
On July 27, 2016, Valeant Pharmaceuticals started a coupon program that's available to all independent pharmacies that want to participate.
Education for pharmacists
Valeant Pharmaceuticals is also focused on training and educating pharmacists, which is expected to boost the company's sales volumes and profit margins in the future.
If Valeant manages to enhance its profit margins from the Walgreens partnership for its dermatology products, there may be a positive impact on the company's share price. Higher profit margins may also positively affect the VanEck Vectors Pharmaceutical ETF (PPH). Valeant Pharmaceuticals makes up about 2.9% of PPH's total portfolio holdings.
In the next part of the series, we'll explore other measures Valeant Pharmaceuticals is implementing to boost its profit margins in 2016.