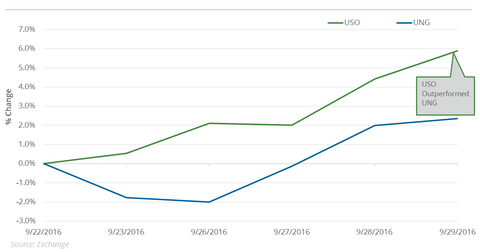 USO versus UNG: Choosing the Right Energy Commodity ETF
By Rabindra Samanta

Updated
USO versus UNG
From September 29 to October 6, 2016, the United States Oil ETF (USO) outperformed the United States Natural Gas ETF (UNG). USO rose ~5.9% and UNG rose ~2.4%.
UNG ended October 6, 2016, with a rise of ~0.4%. The EIA (U.S. Energy Information Administration) announced that natural gas (UNG) (FCG) inventories rose by 80 Bcf (billion cubic feet). A Wall Street Journal survey estimated a rise of 69 Bcf. The rise in the natural gas inventory was above the market's expectation. Since the winter season starts in November, natural gas and inventory levels have been rapidly coming back into balance. There's a bullish tone in the natural gas market.
We already looked at the factors that led to the 5.5% rise in US crude oil in Part 1. USO tracks US crude oil.
Article continues below advertisement
Analyzing USO's performance
USO rose ~44% from February 11–October 6, 2016. During that period, US crude oil active futures rose 92.4%. On February 11, 2016, crude oil active futures hit 12-year lows.
From June 20, 2014, to October 6, 2016, USO fell ~70.7% and US crude oil futures fell 53%. The nearly two-year downturn in crude oil prices started from a peak on June 20, 2014.
The above numbers also show USO's lower returns compared to US crude oil futures. The lower returns are due to the small losses that USO suffered when rolling its exposure to active US crude oil futures that were higher in price than the expiring futures contracts in the fund.
Energy sector exposure
For exposure to the energy sector, you might want to look at energy ETFs that invest in oil and gas stocks instead of ETFs that offer direct exposure to energy prices such as USO and UNG. These energy ETFs include the following:
We discussed the returns of some energy stock ETFs in the previous part.
In the next part, we'll look at XLE's performance compared to other SPDR ETFs.