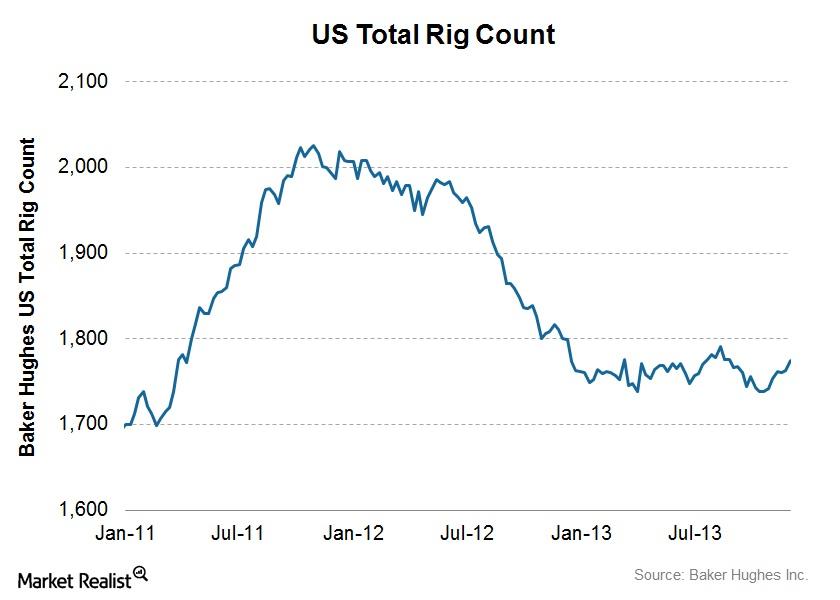 Why US rig counts have climbed by nearly 40 since the end of 3Q13
U.S. rig count trends depend on how much companies are willing and able to spend on drilling
Rig counts represent how many rigs are actively drilling for hydrocarbons (oil and gas). Baker Hughes, an oilfield services company, reports rig counts weekly. The company notes that rig count trends are "governed by oil company exploration and development spending, which is influenced by the current and expected price of oil and natural gas." So rig counts can represent how confident oil and gas producers feel about the drilling environment. As rig counts show one measure of oil and gas drilling activity, the figure can also be a useful indicator to gauge the activity levels of oilfield service companies like Baker Hughes (BHI), Halliburton (HAL), Schlumberger (SLB), and Weatherford (WFT)—all of which are part of the Oil Services HOLDRs ETF (OIH).
Oilfield service companies aren't overly bullish on U.S. rig counts for the rest of 2013, but not because of weak fundamentals
Article continues below advertisement
Most major oilfield service companies commented that they expect U.S. rig counts (including both oil and gas) to remain flat-to-down for the balance of the year. Companies like Halliburton (HAL) noted that the driver of this trend is a switch to pad drilling (drilling more than one well on a single well site), which requires fewer rigs running to drill the same number of wells. However, this doesn't translate into weak activity or a negative signal necessarily. Plus, producers have been able to realize other efficiencies from having gained experience in the relatively new shale plays they've started to drill over the past few years. The efficiencies have allowed for less money spent on oilfield services (including drilling) to realize the same amount of production.
Halliburton noted, "In spite of a relatively flat sequential U.S. rig count, drilling efficiencies in the trend towards multi-well pads are driving a more robust well count." Producers are still eager to drill wells, and even if rig counts are flat, other services like well completion are still needed, providing revenue to oilfield service names in the situation of higher well counts. See Higher well count and stage count helping U.S. fracking market for more background. In recognition of this need, as a service, Baker Hughes has begun to report well counts alongside rig counts. Plus, normal seasonality heading into 4Q13 is likely to negatively impact U.S. rig counts.
U.S. rig counts rose last week and have climbed five out of the past six weeks
For the week ended December 6, total U.S. rig counts reached 1,775, compared to 1,763 the prior week. Oil rig counts increased from 1,391 to 1,397, while natural gas rig counts increased from 367 to 375.
For further discussion of the trends in both natural gas rig counts and oil rig counts, please read the following parts in this series.