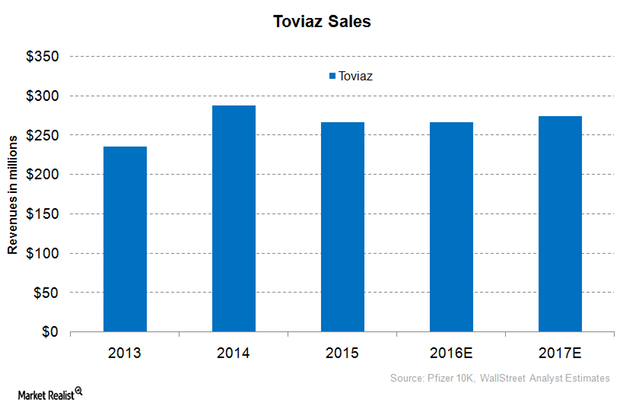 Toviaz Expected to Report Stable Revenues in 2016
By Margaret Patrick

Oct. 25 2016, Updated 8:04 a.m. ET
Toviaz's growth trends
Approved by the FDA on October 31, 2008, Toviaz is used to treat overactive bladder (or OAB) symptoms. Pfizer (PFE) owns the license to market Toviaz across the world while UCB Pharma holds the patents for this drug.
According to Pfizer's press release, "Overactive bladder is a treatable medical condition defined by urinary urgency (a sudden compelling desire to pass urine that is difficult to defer) with or without urgency urinary incontinence (the involuntary leakage of any amount of urine, associated with or immediately preceded by urgency), increased daytime urinary frequency and nocturia."
Wall Street analysts estimate that Toviaz's sales will be about $267 million in 2016, similar to its reported sales in 2015.
If Toviaz is able to surpass these revenue targets, it may have a positive impact on Pfizer's share price, as well as the share price of the iShares Russell 1000 Value ETF (IWD). Pfizer makes up ~1.8% of IWD's total portfolio holdings.
Article continues below advertisement
Litigation
In May 2013, numerous generic pharmaceutical companies challenged patents held by Toviaz. Pfizer appealed against all these companies in the District Court of Delaware, claiming that the generic players had infringed three compositon of matter patents, one method of use patent, and another for the salts of fesoterodine—the generic name of Toviaz.
Pfizer opted for an out-of-court settlement for four of the generic players in June and July 2015. The remaining four generic players went on to fight the case in the court, which commenced in July 2015. In April 2016, the court announced that Toviaz's patents are valid.
Hence, by filing the abbreviated new drug application (or ANDA) with the FDA for Toviaz's generic versions, the defendants had infringed on Toviaz's patent estate. These defendants did not appeal the decision by the court-mandated deadline of June 2016. Pfizer is currently involved in litigation with Mylan to protect the patents of Toviaz.
A strong patent estate for Toviaz and multiple other products has enabled Pfizer to pose strong competition to other big pharma players such as Merck (MRK), Eli Lilly (LLY), and Novartis (NVS).
In the next article, we'll explore the growth trends for Chantix in 2016.