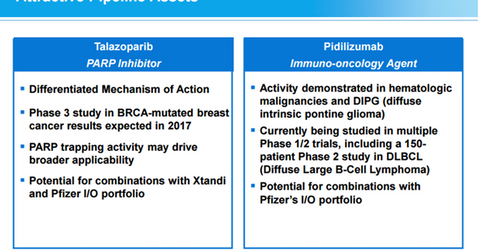 Talazoparib and Pidilizumab May Prove Complementary to Pfizer's Existing Oncology Drugs
By Margaret Patrick

Updated
Complementary drugs
In addition to Xtandi, Medivation has also added its robust research pipeline made up of two promising investigational drugs, Talazoparib and Pidilizumab, to Pfizer's (PFE) oncology portfolio.
Talazoparib is being explored as a therapy for breast cancer and could prove complementary to Pfizer's leading breast cancer therapy, Ibrance. Pidilizumab is an immuno-oncology drug and is being researched as therapy for hematologic cancers.
Article continues below advertisement
Talazoparib's growth prospects
Due to its different mechanism of action, Pfizer believes that Talazoparib can complement Pfizer's existing oncology portfolio and create a strong presence in areas like breast cancer, lung cancer, and prostate cancer. Based on data collected for Talazoparib, the drug appears to be a very effective PARP inhibitor, and Pfizer is confident that Talazoparib can be used to target multiple tumors.
Talazoparib is now being explored as a BRCA-mutated breast cancer therapy in a Phase 3 trial, EMBRACA. Pfizer expects to obtain data from this trial in 2017. Peers AbbVie (ABBV), AstraZeneca (AZN), and Tesaro (TSRO) are also involved in exploring PARP inhibitors as treatments for various types of breast cancers.
According to the National Cancer Institute, "A substance that blocks an enzyme in cells called PARP. PARP helps repair DNA when it becomes damaged. DNA damage may be caused by many things, including exposure to UV light, radiation, certain anticancer drugs, or other substances in the environment. In cancer treatment, blocking PARP may help keep cancer cells from repairing their damaged DNA, causing them to die. PARP inhibitors are a type of targeted therapy. Also called poly (ADP-ribose) polymerase inhibitor."
Notably, Pfizer makes up about 0.93% of the total portfolio holdings of the iShares Russell 1000 ETF (IWB).
Pidilizumab's growth prospects
Still in its early-stage clinical trials, Pidilizumab has managed to demonstrate efficacy in various hematologic cancers as well as diffuse intrinsic pontine glioma, or DIPG, which could boost Pfizer's revenues going forward.
In the next and final part, we'll explore the latest analyst recommendations for major oncology players in 2016.