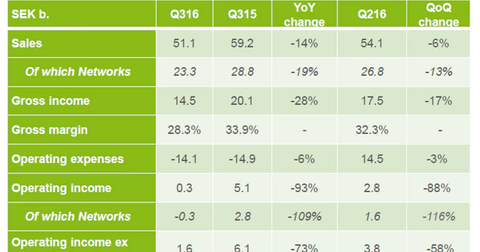 Why Did Nokia Shares Fall in October 2016?
By Adam Rogers

Updated
Nokia shares have fallen 7.8% since October 11, 2016
In the trailing one-month period, Nokia (NOK) shares have fallen more than 10.0%. Since October 11, 2016, they've fallen 7.8%, from $5.39 to $4.97. As we saw earlier, mobile equipment companies are facing a challenging macroeconomic environment. On October 12, 2016, Europe-based (EFA) Ericsson (ERIC) announced its preliminary 3Q16 earnings, which were significantly lower than its expectations.
Ericsson's sales were impacted by industry trends that have been negatively affecting the mobile equipment sector since early 2016. Ericsson said that sales in its Segment Networks business have fallen, driven by a weak macroeconomic environment in markets such as Brazil, the Middle East, and Russia. Ericsson shares fell 20.0%, while shares of Nokia (NOK) and Cisco (CSCO) fell 5.6% and 2.3%, respectively, on October 12.
Article continues below advertisement
Cisco and Nokia have broader product portfolios
Analysts believe that revenues for companies such as Cisco and Nokia won't be affected as negatively as Ericsson's. Both companies have broader product portfolios than Ericsson and are thus protected by cyclical headwinds arising from the mobile equipment industry.
Nokia completed its acquisition of Alcatel-Lucent this year. Ericsson partnered with Cisco to fight the growing competition from China's (FXI) Huawei. A press release said that the partnership could bring about incremental revenue of $1.0 billion for both companies in 2018. However, this synergy accounts for only 4.0% of Ericsson's total 2015 revenue.