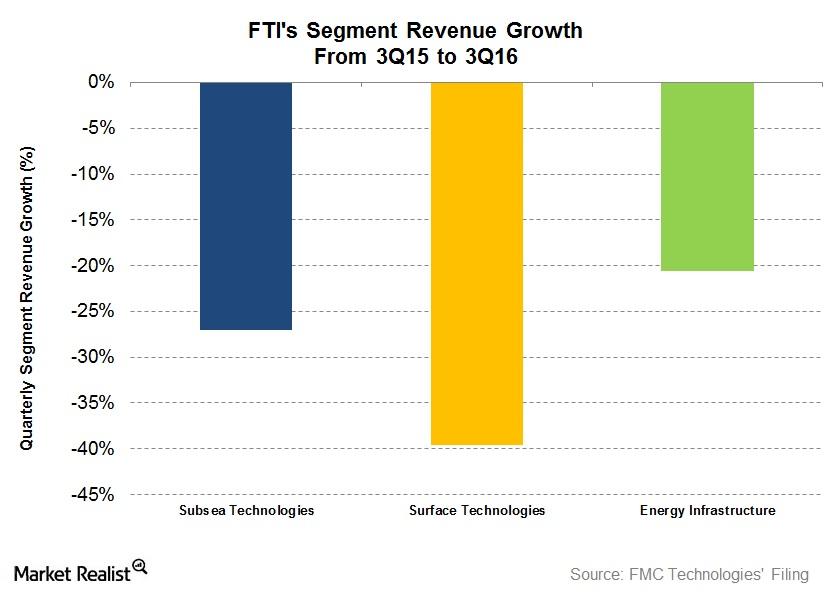 Which FMC Technologies Segment Suffered the Most in 3Q16?
FMC Technologies' revenue by segment
We've already looked at FMC Technologies' (FTI) 3Q16 revenues and earnings. Now we'll look at the performances of its segments in that quarter.
All of FMC Technologies' segments witnessed falls in revenue in 3Q16 over 3Q15. The Surface Technologies segment saw the steepest revenue fall of ~40.0%, while the Energy Infrastructure segment was the most resilient with a ~21.0% fall during the period. By comparison, 3Q16 revenues for FTI's peer Halliburton (HAL) fell 31.0% compared to 3Q15.
Article continues below advertisement
FMC Technologies' operating income by segment
The Energy Infrastructure segment switched to operating income in 3Q16 compared to an operating loss a year ago. However, the Subsea Technologies segment, which accounted for the majority of FTI's operating income, fell 30.0% from 3Q15 to 3Q16. Below are some factors that affected FTI's 3Q16 earnings:
lower inbound orders in the Subsea Technologies segment
a fall in rig count in North America
lower onshore and subsea activity
How did FMC Technologies do year-to-date?
In the first nine months of 2016, FMC Technologies' revenues fell 30.0% to ~$3.5 billion over the same period in 2015. Its reported net income also fell a huge 85.0% to $49.6 million in that period compared to the first nine months of 2015.
FMC Technologies' backlog
FMC Technologies' contract backlog fell 39.0% as of September 30, 2016, compared to the previous year. Together, all three segments' order backlog was ~$3.0 billion by the end of 3Q16 compared to $4.9 billion as of September 30, 2015.
Next, we'll take a look at FMC Technologies' returns.