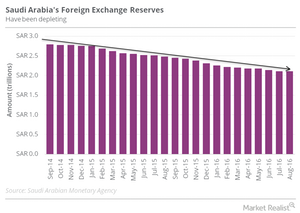 Saudi Arabia Has Been Liquidating Its Reserves to Plug the Gap
By Surbhi Jain

Updated
Liquidating reserves
The plunge in oil's price since mid-2014 has had a direct and negative bearing on Saudi Arabia's public finances. For an economy that derives about 80% of its budget revenue from oil (USO) sales, an oil price plunge is sure to drag down revenue and growth.
For Saudi Arabia, oil's price fall has resulted in the depletion of its foreign exchange reserves. Compared to the 2.8 trillion Saudi Arabian riyal foreign exchange reserves held by the country in September 2014, its balance fell to 2.1 trillion riyal in August 2016. Since the end of 2014, the economy has withdrawn about $104 billion from its foreign exchange reserves to plug its budget shortfalls.
Article continues below advertisement
Budget shortfalls
Data from the SAMA (Saudi Arabian Monetary Agency) suggests that the country may be reallocating some of its reserves into short-term, liquid assets to help the finance ministry meet its budget commitments and defend its currency peg against the dollar. "When SAMA is required to raise liquidity for the Ministry of Finance, you'd see deposits and cash go up and they'd liquidate other assets," said Khalid Alsweilem, SAMA's former head of investment.
Moreover, the country's oil revenue fell 23% in 2015, resulting in a budget deficit of nearly $100 billion. The economy's budget recorded a deficit equal to 15% of its 2015 GDP. The economy stood at a surplus equal to 29.8% of GDP in 2008 and 13.6% of GDP in 2012.
Debt offerings are one of the methods being adopted by GCC (Gulf Cooperation Council) countries to fill in their budgetary deficits. Other methods include a 14% reduction in government spending in 2016) and a rise in taxes or the removal of subsidies. The country has also pursued the partial sale of its state oil company, Aramco. Aramco boasts about 12% of the world's oil production.
Riyal pegged to the dollar
The riyal is pegged to the US dollar (UUP). The weakening riyal, courtesy of the plunge in oil's price, has led the Saudi Arabian government to sell its US dollar reserves in order to protect its foreign exchange rate. The economy needs to maintain its 30-year currency peg of 3.75 riyal to the dollar.
Meanwhile, many emerging markets' central banks are selling Treasuries to raise cash in defense of their currencies. This practice is true of emerging markets (EEM) (EMB) such as China (FXI), Brazil (EWZ), and Mexico (EWW). Saudi Arabia has been doing it too, as we'll discuss in the next article.