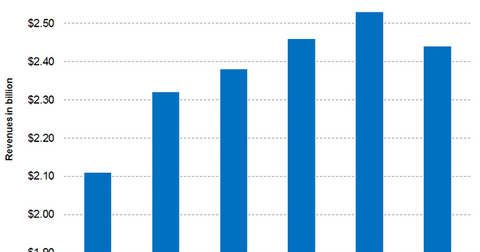 RPM International's Revenue Rides on the Industrial Segment
By Peter Neil

Updated
RPM Internationals' Industrial segment
RPM International's (RPM) largest revenue contribution comes from the Industrial Segment. According to its fiscal 2016 annual report, RPM's Industrial segment contributed 50.7%, or ~$2.4 billion, to the company's total revenue. From 2011 to 2016, the segment of has grown at a CAGR (compound annual growth rate) of ~3%.
In fiscal 2016, RPM's Industrial segment recorded highest EBIT (earnings before interest and taxes) of $259 million, implying a CAGR of 6% assisted by the robust growth in North American companies in the commercial construction market.
Article continues below advertisement
Product categories and business model
The Industrial segment derives its revenues from new commercial construction space and the repairs and maintenance space. The segment operates under three sub-segments: Tremco Group, Tremco Illbruck Group, and Performance Coatings Group. The product categories include construction sealants and chemicals, roofing systems, flooring systems, corrosion control coatings, fiberglass reinforced plastic gratings, waterproofing coatings and sealants, concrete admixtures and repair products, and fireproofing coatings.
This segment has over 30 brands and sold in 170 countries, with products that are sold worldwide to contractors, distributors, and direct to end-users like public institutions and commercial customers.
Top brands
The top brands under this segment include the following:
Tremco is a well-known brand for sealants and roofing solutions. Tremco is the number one brand by sales in the North-American high-end institutional roofing market. Tremco was founded by William Treuhaft in 1928.
Stonhard is specialized for installing high-performance floors. It caters to various industries like aerospace, healthcare, pharmaceutical, transportation to name a few. Stonhard lays the floor according to the industry need. Stonhard is the number one supplier of industrial high-performance polymer flooring systems.
Carboline supplies high-performance coatings, linings, and fireproofing products worldwide. Carboline serves industries like Oil and Gas, Petrochemical, Bridge and Highway, and Metals and Mining—to name just a few. RPM acquired Carboline in 1985. Carboline is the number one supplier of industrial, high-performance corrosion control coatings.
Illbruck provides sealing and bonding solutions for the construction and manufacturing industry. RPM acquired Illbruck in 2005, which helped RPM increase its presence in the European market.
RPM is the third-largest coatings company by revenues, with PPG Industries (PPG) and Sherwin-Williams (SHW) at number one and number two. Other major competitors include Valspar (VAL) and Axalta (AXTA).
Investors can hold RPM indirectly by investing in the PowerShares DWA Momentum Portfolio (PDP), which had a weight of 0.6% in RPM on September 28, 2016.