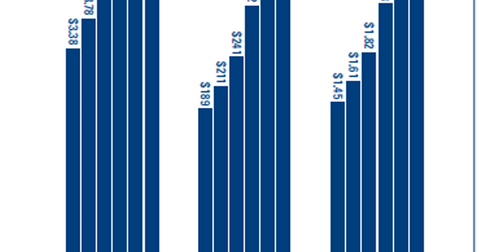 RPM International: A Company Overview
By Peter Neil

Updated
RPM International facts
RPM International (RPM) is a specialized company that manufactures and markets high-performance coatings, sealants, and specialty chemicals (XLB) for maintenance and improvement applications through its subsidiaries. RPM is the sixth-largest coatings company in the world, with a reported revenue of ~$4.8 billion in fiscal 2016. (RPM follows June 1 to May 31 as its reporting financial year.)
Article continues below advertisement
RPM has more than 13,000 employees worldwide, with 120 manufacturing facilities in 24 countries. Its products are sold in approximately 170 countries. RPM caters to some industries that do not face competition from peers, including fluorescent pigments, fire and water damage restoration equipment, exterior insulation and finish systems, specialty OEM coatings, and edible coatings for food and pharmaceutical use.
Brief history
In May 1947, Frank C. Sullivan founded Republic Powdered Metals in a garage on Cleaveland's west side with an investment of $20,000. The company manufactured an aluminum roof coating, alumanation. Sullivan held to the following philosophy: "Hire the best people you can find, create an atmosphere that will keep them. Then, let them do their jobs." Even today, RPM follows the same philosophy.
Frank C Sullivan died in 1971, and his son Thomas C. Sullivan took over the RPM reins. Thomas Sullivan and James A. Karman, who served as the company's Chief Operating Officer, managed the company for more than three decades and retired in 2002. During this period, the company witnessed tremendous growth, from $11 million to $2 billion. RPM is now managed by Frank C. Sullivan, son of Thomas C. Sullivan.
RPM International is listed and traded on the New York Stock Exchange with a market cap of approximately $7.4 billion and a three-month average trading volume of 515,000 shares per day.
In this series, we'll look at RPM International Industries' journey as one of the leading companies in the US in the paints and coatings sector. We'll also look in detail at the company's segments and other financial aspects. At the end of the series, we'll take a look at the company's key valuation metrics.