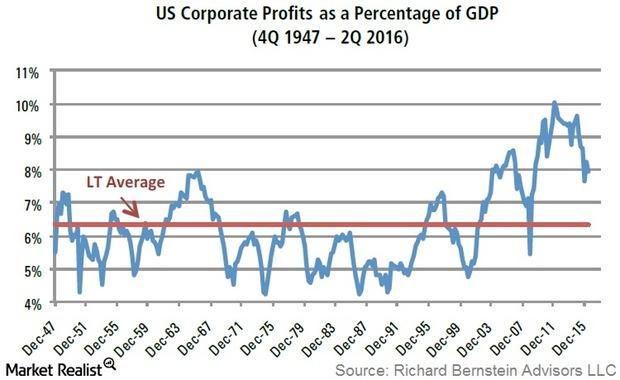 What's Fueling the Bull Run? Richard Bernstein Explains
By David Ashworth

Oct. 24 2016, Updated 8:06 a.m. ET
A bull run with legs
In Richard Bernstein Advisors' October Insights newsletter, after dismissing the belief that the Federal Reserve is to blame for stock price inflation (IWD) (VTV), Richard Bernstein moved on to explain the reason for the current bull run.
Stating that "fundamentals have improved dramatically, and have been a major support to the bull market," he believes that the bull market's fundamentals are driving stock prices (IVW) (VUG), not the accommodative monetary policy of the Fed.
Article continues below advertisement
Corporate profits as percentage of GDP
The above chart shows US corporate profits, after tax with inventory valuation and capital consumption adjustments, as a percentage of GDP. Richard Bernstein notes that, in this bull run, corporate profits have formed the largest proportion of GDP in history. If investors had known that corporate profits would be the quickest growing portion of national income, they would have become bullish a decade ago.
Proof in the pudding?
Richard Bernstein states that the graph above is strong proof that the bull run is not being fueled by the Fed inflating asset prices due to benign monetary conditions. He goes on to say that "the constitution of the current bull market is much more normal than bulls would suggest."
He explains that a bull run constitutes accommodative monetary conditions provided by the central bank, an improvement in fundamentals, and negative sentiment. All these elements are present in this bull run, making it a typical bull market.
In what he has called the "earnings-driven bull markets," cyclical stocks tend to do better than stable growth companies, as "cyclical companies' incremental earnings growth more than offsets the negative effect of rising rates." Automakers (HMC) (TSLA), airlines (DAL) (LUV), and hotels (IHG) (HOT) are good examples of cyclical stocks.
Richard Bernstein remains a firm believer that the bull market still has legs. Next, we'll discuss Bernstein's views on bear market indicators.