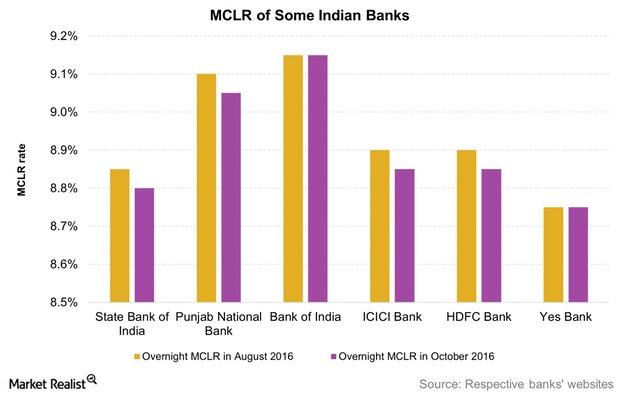 Why the RBI Feels that Monetary Policy Transmission Can Improve in India
By David Ashworth

Oct. 5 2016, Updated 4:41 p.m. ET
Importance of policy transmission
Monetary policy transmission refers to the translation of monetary policy actions into the financial system via banking and trading channels. By changing the short-term interest rate—like the repo rate in India or the federal funds rate in the US—a central bank signals other banks to change their lending and deposit rates. But it can't force them to make the change, and so the actual efficiency of monetary policy transmission depends on commercial banks.
The RBI (Reserve Bank of India) has been on a rate reduction cycle since January 2015. Prior to its January 2015 meeting, the repo rate stood at 8%. Its journey from that level to the current 6.25% was made up of six rate cuts totaling 175 basis points.
Article continues below advertisement
Although banks (HDB) (IBN) can't transmit the quantum of 1.75% to consumers, they still have more room to pass on the benefit of these rate cuts. Deposit rates almost immediately get reduced after a repo rate cut, if deemed fit, but loan rates aren't cut that soon or that sharply. This process works as a bottleneck to efficient policy transmission and diminishes the impact of the RBI's rate reduction.
In India, loans sanctioned as of April 1, 2016, are with reference to MCLR (marginal cost of funds-based lending rate), instead of the base rate, which was used earlier. The overnight MCLR rate of some Indian banks is presented in the graph above.
Patel hopes for further transmission
After the policy press conference, RBI Chief Urjit Patel admitted that the transmission of these rates cuts through the bank lending channel has been less than desired. However, Patel was hopeful that further transmission of the rate cuts will be possible, especially in light of the recent reduction in small saving schemes rates. The government has reduced the interest rates on small savings schemes by 0.1% for the October–December quarter.
Lower rates would help individuals as well as corporations (RDY) (VEDL) (WIT) and will help with firmer economic growth in the country. This move could also bode well for India-focused funds (EPI) (FINGX).
In the next part of this series, we'll look at how markets (ETGIX) (INDA) reacted to the RBI's October policy statement.