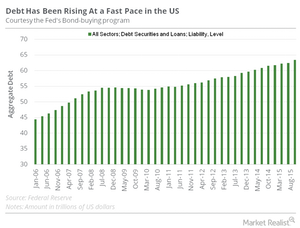 Ray Dalio: What Does the Future Hold?
By Surbhi Jain

Nov. 22 2019, Updated 6:23 a.m. ET
Ray Dalio shares his view on the economy
You won't find many investors who do not follow Ray Dalio's views on the economy and markets (SPY) (QQQ) (IWM). During a speech at the New York Fed's 40th Annual Central Banking Seminar, Ray Dalio had a few things to say about the future. "Debt will not be able to rise as fast and the capital markets transmission mechanism won't work as well, as interest rates can't be lowered and risk premiums of other investments are low and shrinking," said Dalio.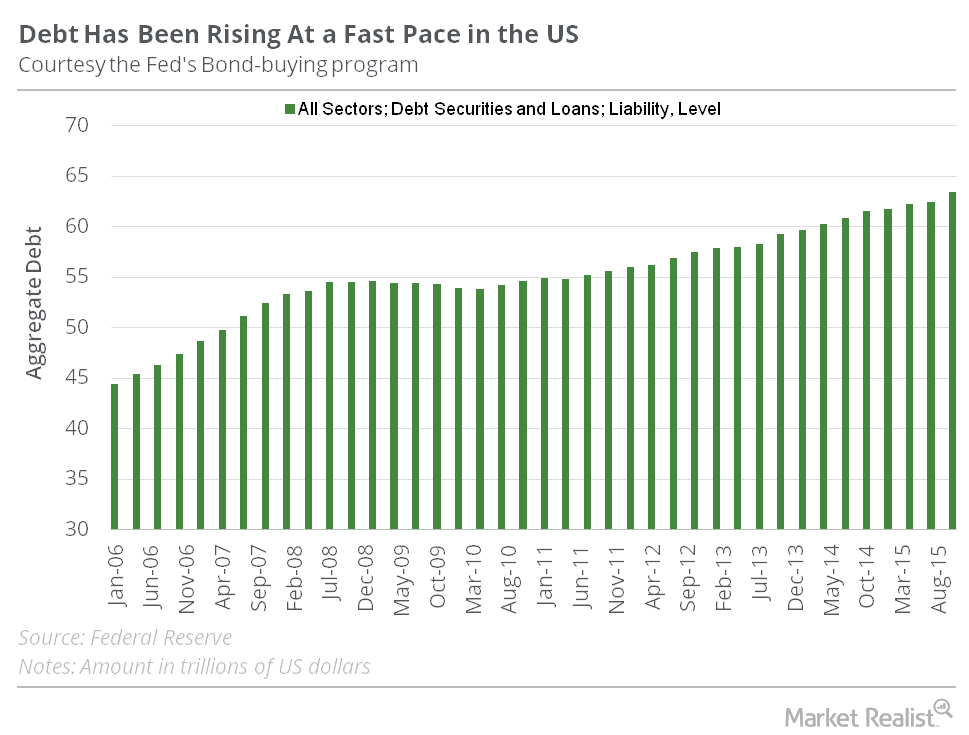 Article continues below advertisement
Debt has been rising at a fast pace
Given the need to recover from and subsequently stimulate the economy after the financial crisis, the Fed embarked on a bond-buying program and lowered interest rates to promote lending and spending. Consequently, aggregate debt in the United States has been rising at a rapid pace. Whereas it was about $54 trillion in 1Q10, it stood at a good $63.5 trillion in 4Q15.
The debt alarm is not just ringing for the United States. Europe (FEZ) (VGK) and Japan (EWJ) (HEWJ) are also reaching their sustainable debt limits. Japan has the world's highest debt-to-GDP ratio, at 229.2%. The United States stands at 104.2%, while the Euro area has a debt equal to 90.7% of its GDP. Within Europe, Italy, Spain, and France are leading, with debt-to-GDP ratios of 132.7%, 99.2%, and 96.1%, respectively. Expansionary monetary policies, which have been prevalent in these areas for some time now, are the key reason behind debt burgeoning to such levels. Going forward, "debt will not be able to rise as fast," according to Dalio.
Risk premiums aren't that rewarding
Another interesting point that Dalio has raised is that, historically, the capital market mechanisms that used to stimulate lending and spending in the economy aren't as effective anymore, as risk premiums across asset classes have shrunk considerably. Market returns are so low that risk premiums that have historically lured investors to invest in risky assets are no longer that attractive. With the narrowing of those premiums, investors are beginning to hold cash or invest more frequently in safe-haven assets than high-risk, low-return assets.